We mean a madness of the the best kind possible…

This ended up being another one of those crazy weekends that there simply aren't enough hours in the day to cover each individual activity properly so we end up consolidating the lot in a post like this. That's the case today, with exception to one activity, an ice climbing intro course, here's the other stuff that went down. So, strap in, get ready for some adventure.
Skills and Mt Washington | Mountaineering Skills | Ice and Alpine Climbing | Mt Avalon Wedding | Mt Webster Snowshoe Hike

Skills and Mt Washington
FRIDAY
The target seemed to shift on this project. At first it was meant to be a day of training, as requested, followed by a NH 4000-footer, guide's choice — with the hope of trying some of the skills learned. But no Lion Head. Something else. Maybe Monroe… it was one of the ones floated. We discussed this with Redline Guide Phoebe Seltzer. She was to provide the training and hike leadership on this private two-day event. The climb ended up being up the Ammo with Mt Washington as the target. We complied with the request and Phoebe delivered the goods, our guest summiting the tallest mountain in the northeast (for Phoebe it was number 41… wow). Well done!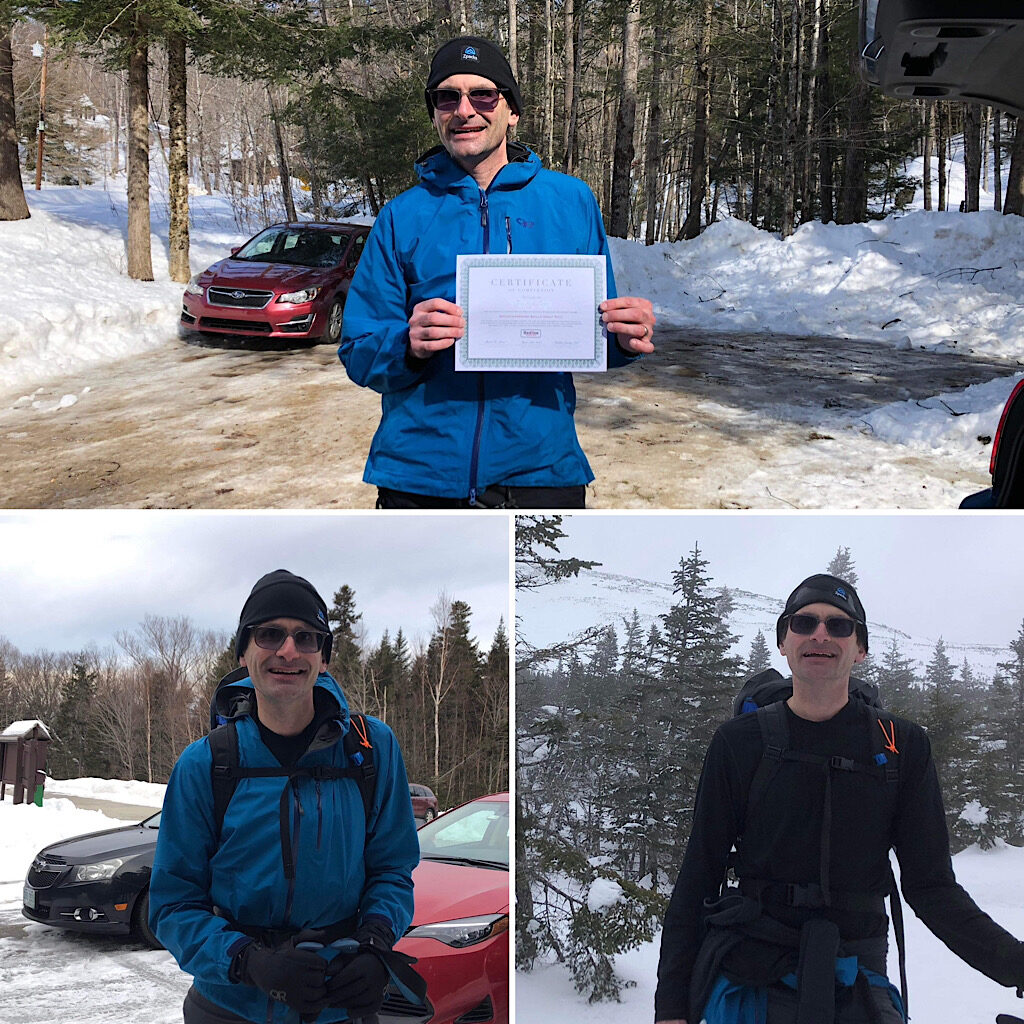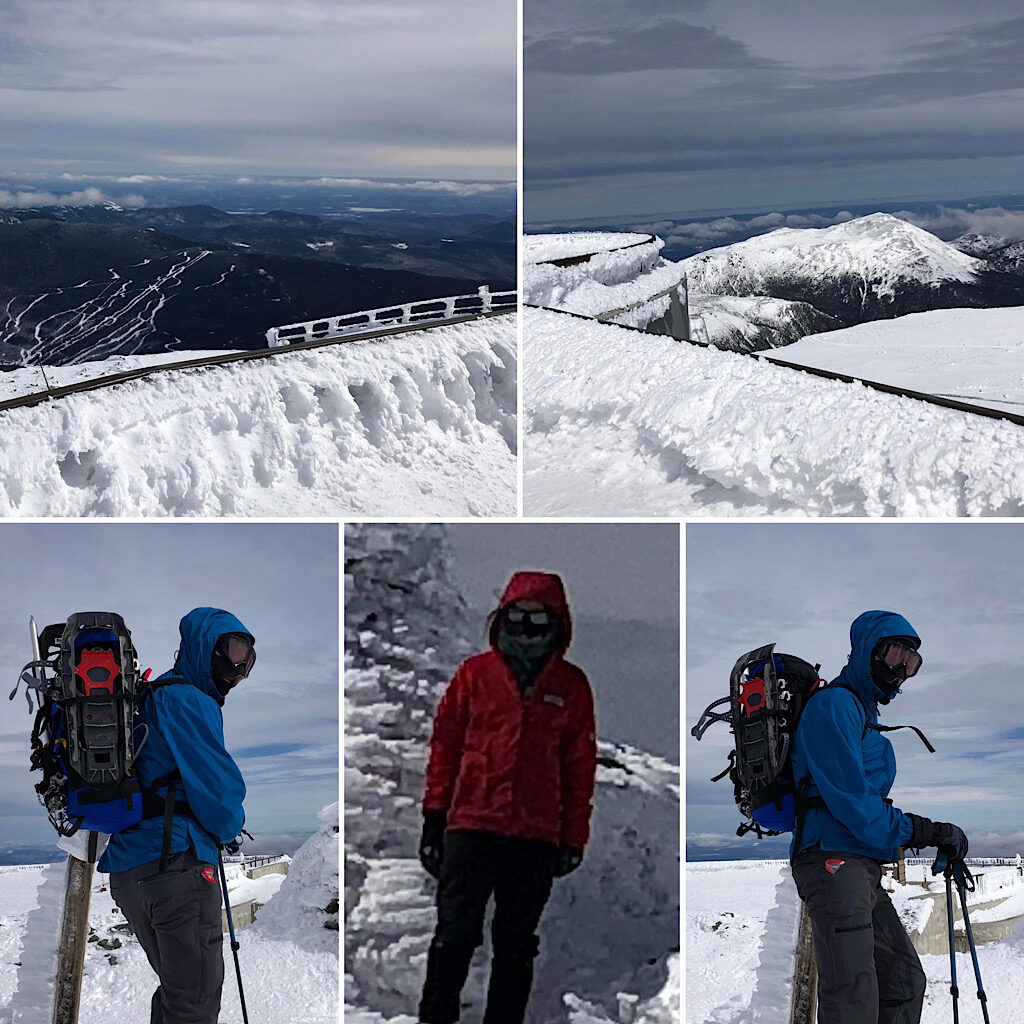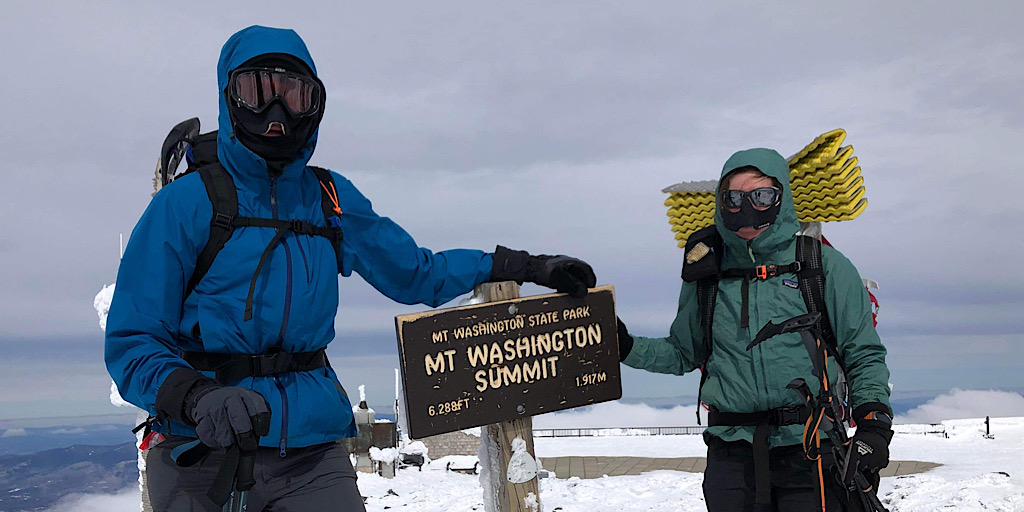 Mountaineering Skills Class
SATURDAY
Two individual returning guests — one we'll admit is an insider — were put together for a Mountaineering Skills class to learn the ins-and-outs of using crampons, the not-exactly-named-right "ice ax", putting the two tools together, some self arrest training, and the ever-popular "more." This was led by Redline Guide Mike Cherim. Both students did terrific and we had some fun along the way!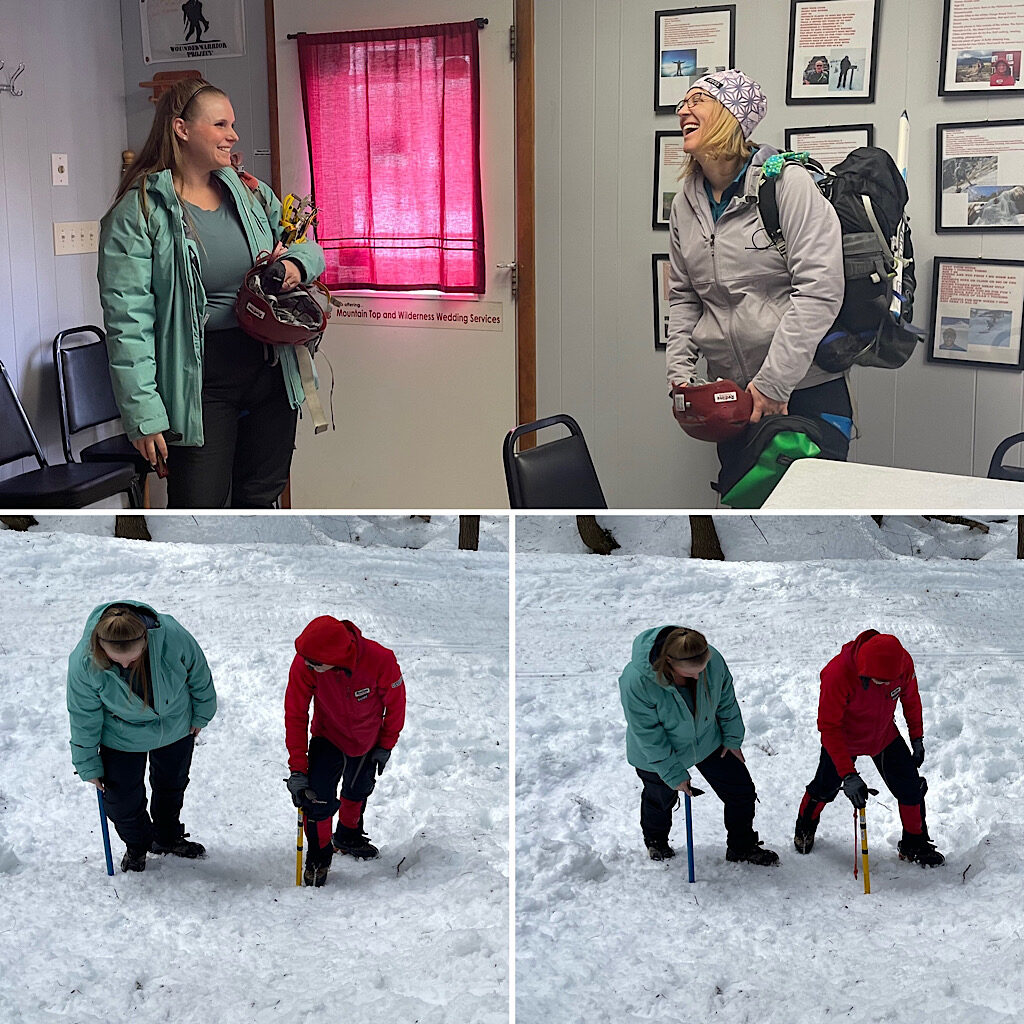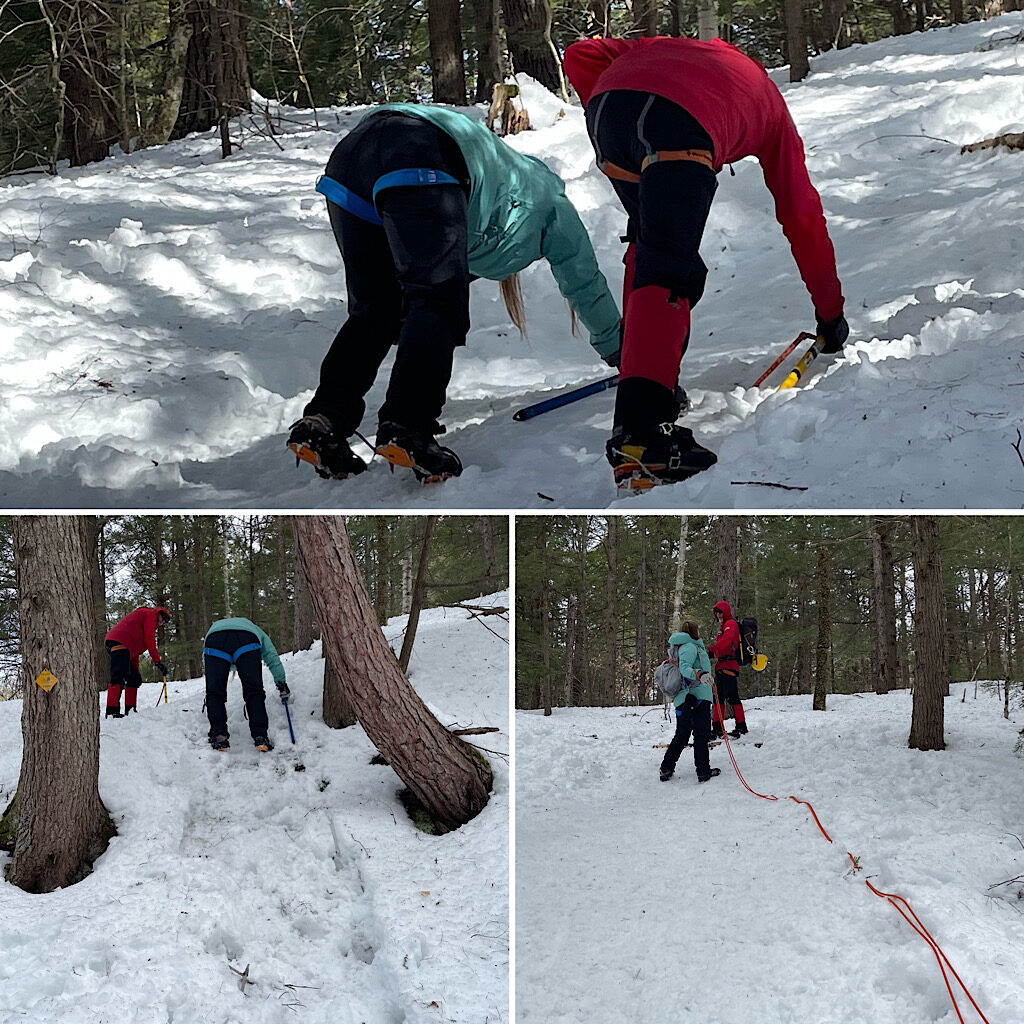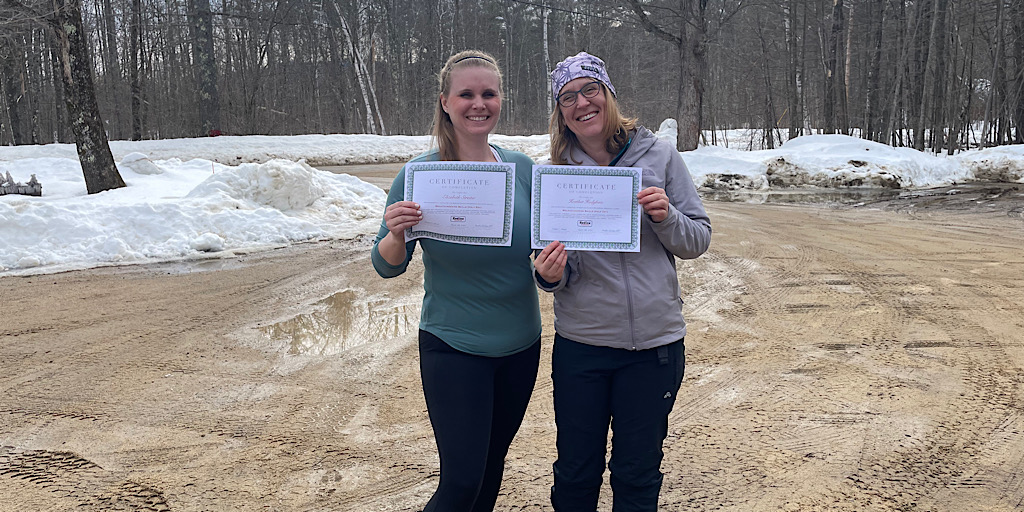 Alpine Climbing Weekend
SATURDAY & SUNDAY
They have one more day scheduled with us for a mountaineering skills course and a custom half-day glacier skills offering (they will get the roped travel half). Knowing ice season will end before the snow disappears, we wanted to address that part of their requested studies first. For late season snow we rely on a local ski area and, in some cases, the Mt Washington Auto Road allowing for very, very late season snow access. For ice there are fewer options. In this case Redline Guide Pat Ferland was able to offer an intro to ice climbing course at a local crag, then he followed it up by leading the pair up Shoestring Gully in Crawford Notch.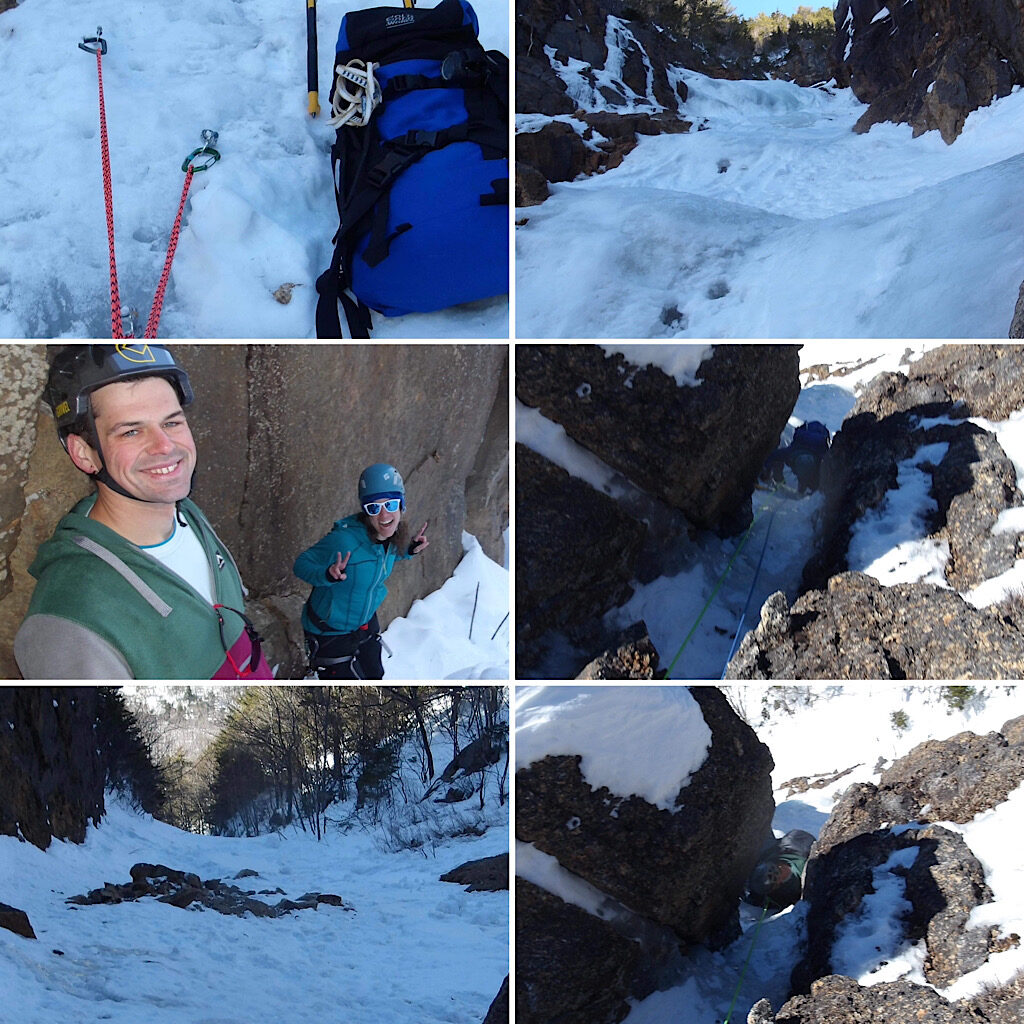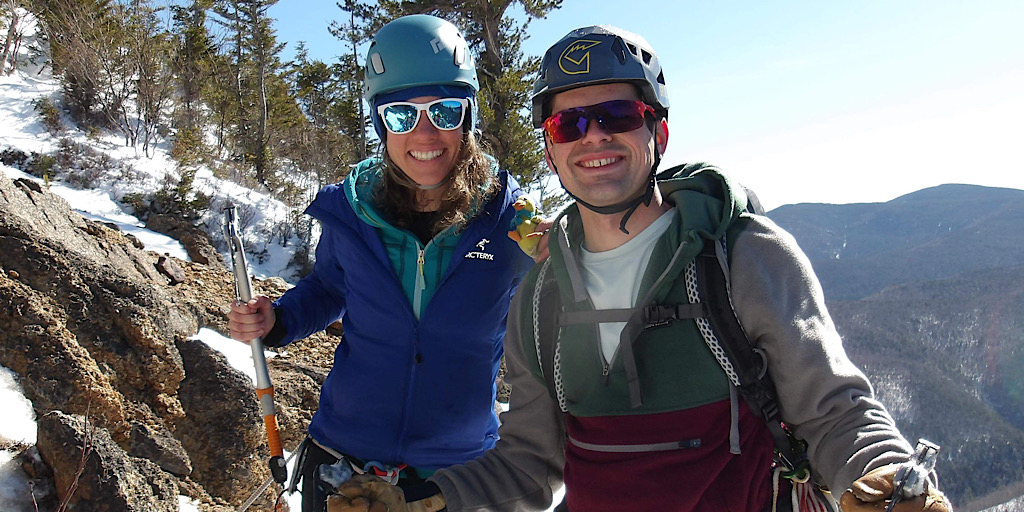 Avalon Wedding
MONDAY
A young couple reached out to us wanting Redline Guide and New Hampshire Justice to the Peace Mike Cherim to officiate their mountain wedding. This was a sort of last minute elopement, it would be just the trio. They didn't know where to do it either. They spoke to Mike about it during their virtual wedding pre-meet and he suggested a few ideas they could check out on Google. It's fitting the options began with A for Avalon (a NH 52-With-A-View peak, elv. 3461′) as that is what they chose. Avalon was the first suggestion, though many others were offered, it was what stuck. To Jack and Zara, married March 13th, 2023, we congratulate you. Here are some photos of your special day.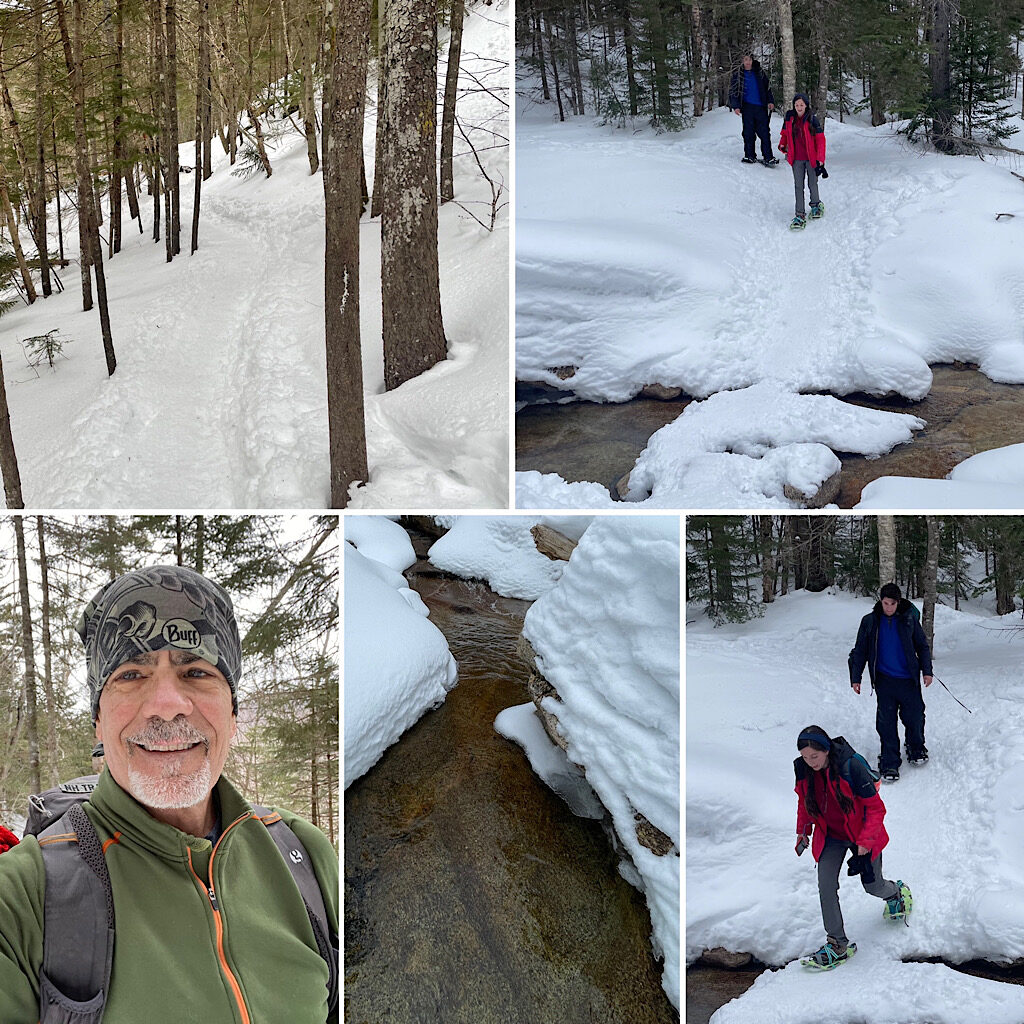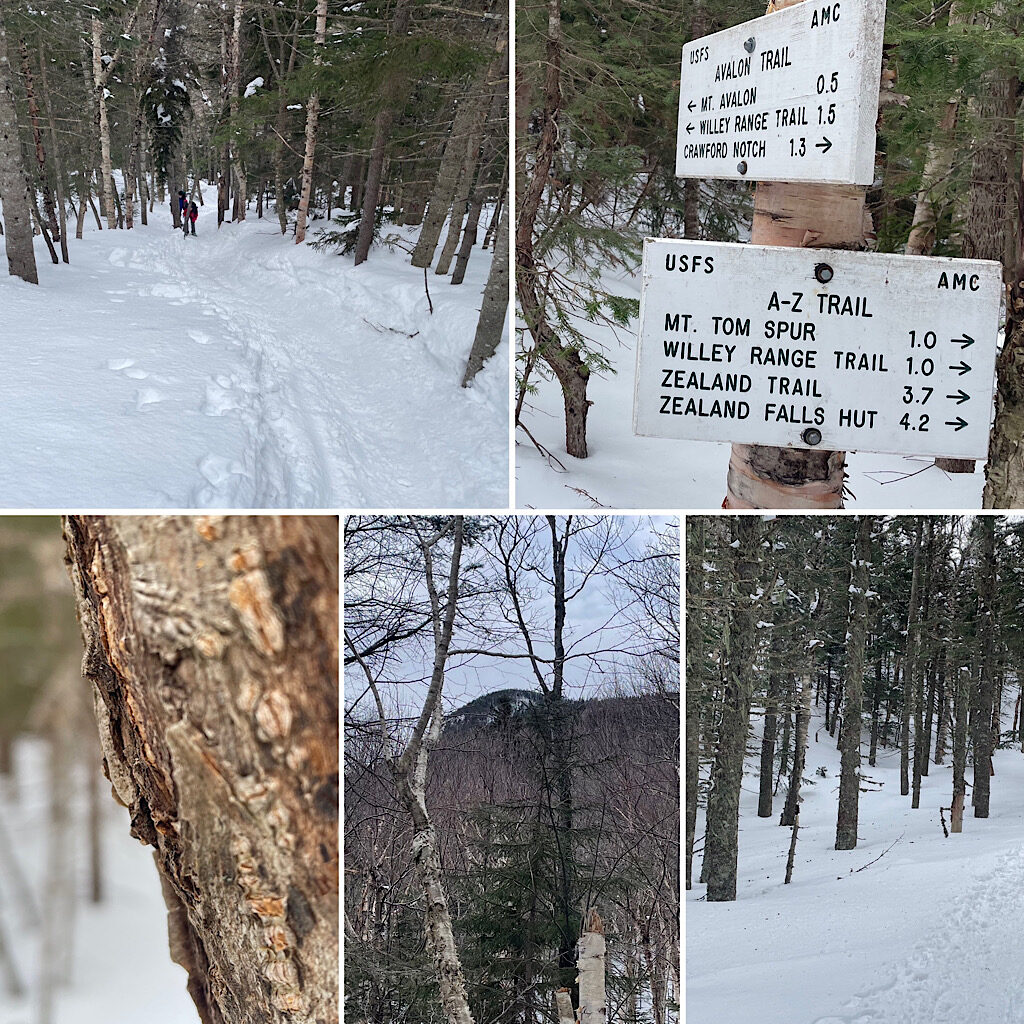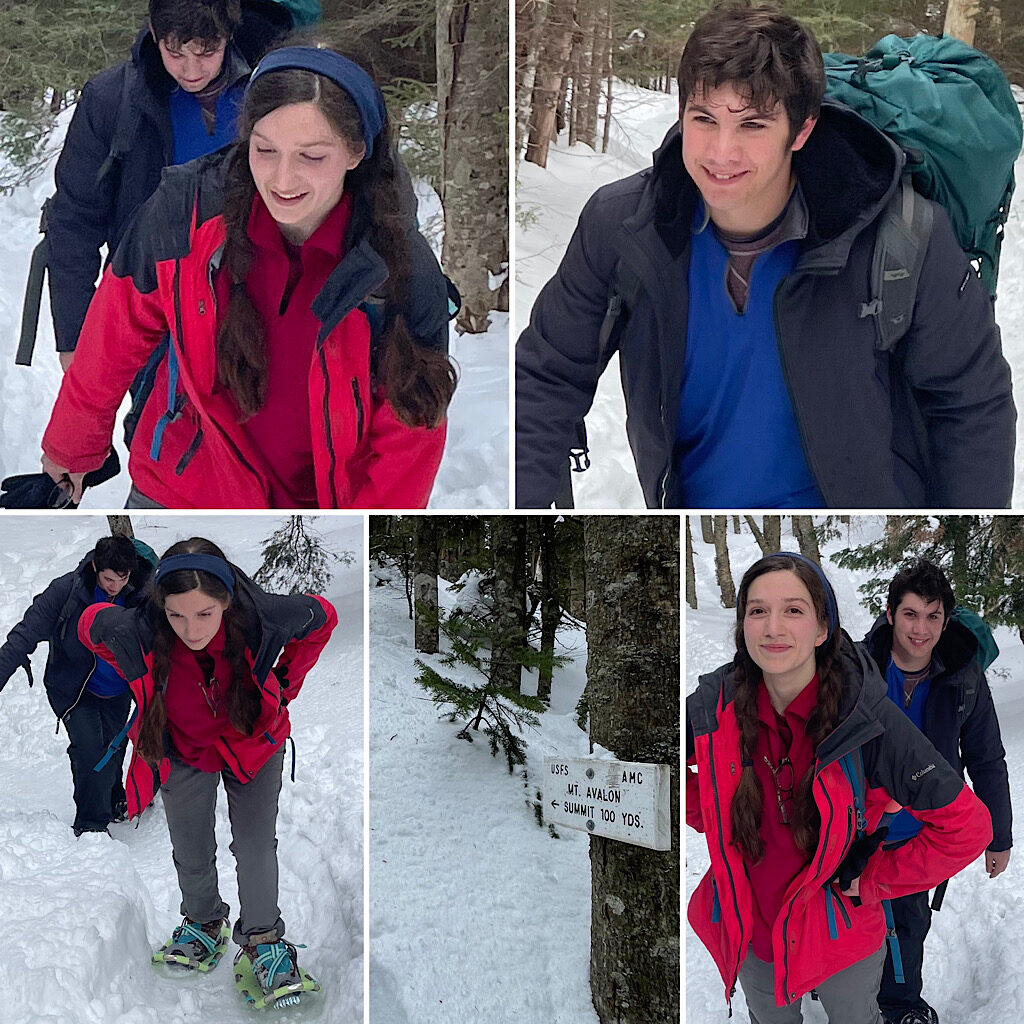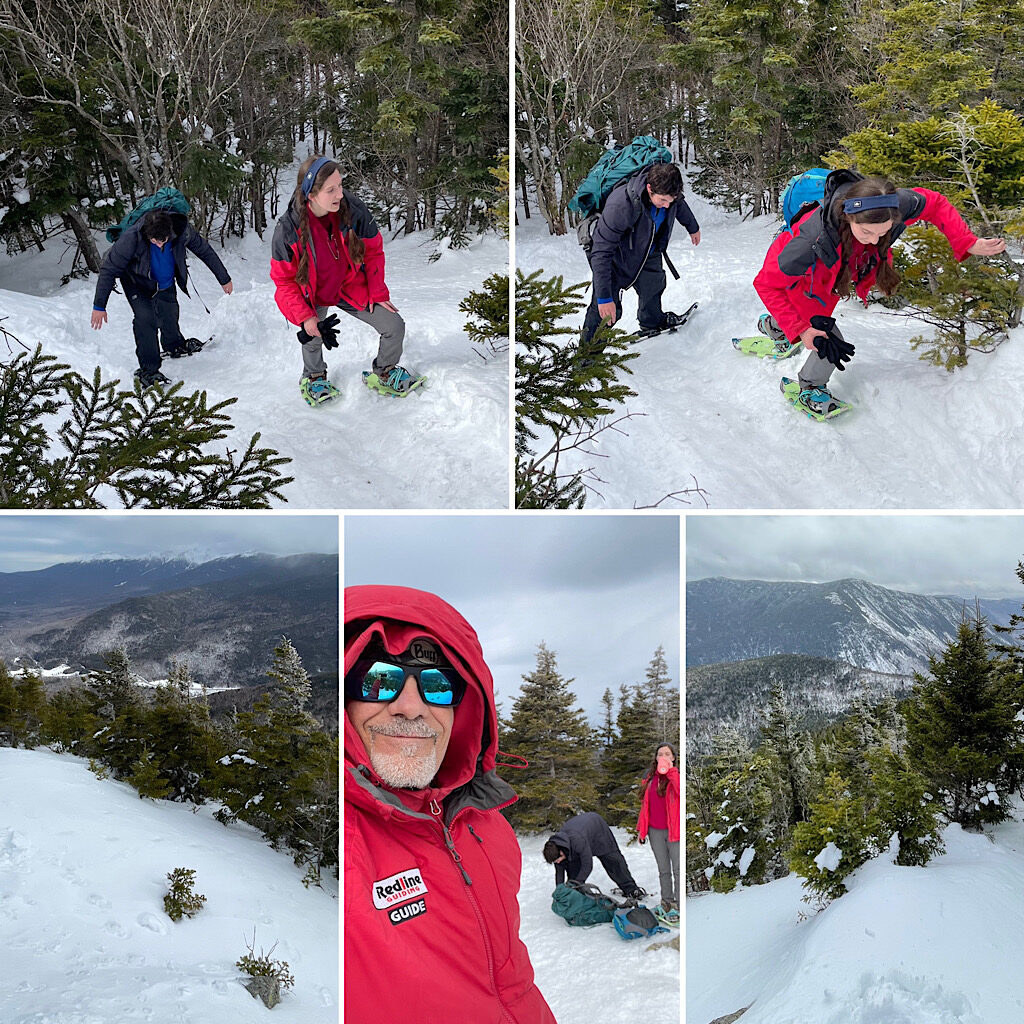 Mt Webster Snowshoe Hike
MONDAY
While Mike was on a mountain on the west side of Crawford Notch, in Grafton County, marrying a couple, Redline Guide Ken Hodges was one the east side of the same notch, in Carroll County, leading one adventurous gentleman to the summit of Mt Webster (elv. 3910′). They did this as an out-and-back hike on the Webster Branch of the Webster-Jackson Trail. This mountain, with its sheer cliff side and stunning views, like the aforementioned Avalon, is on the NH 52-With-A-View list. Here are some photos of their day.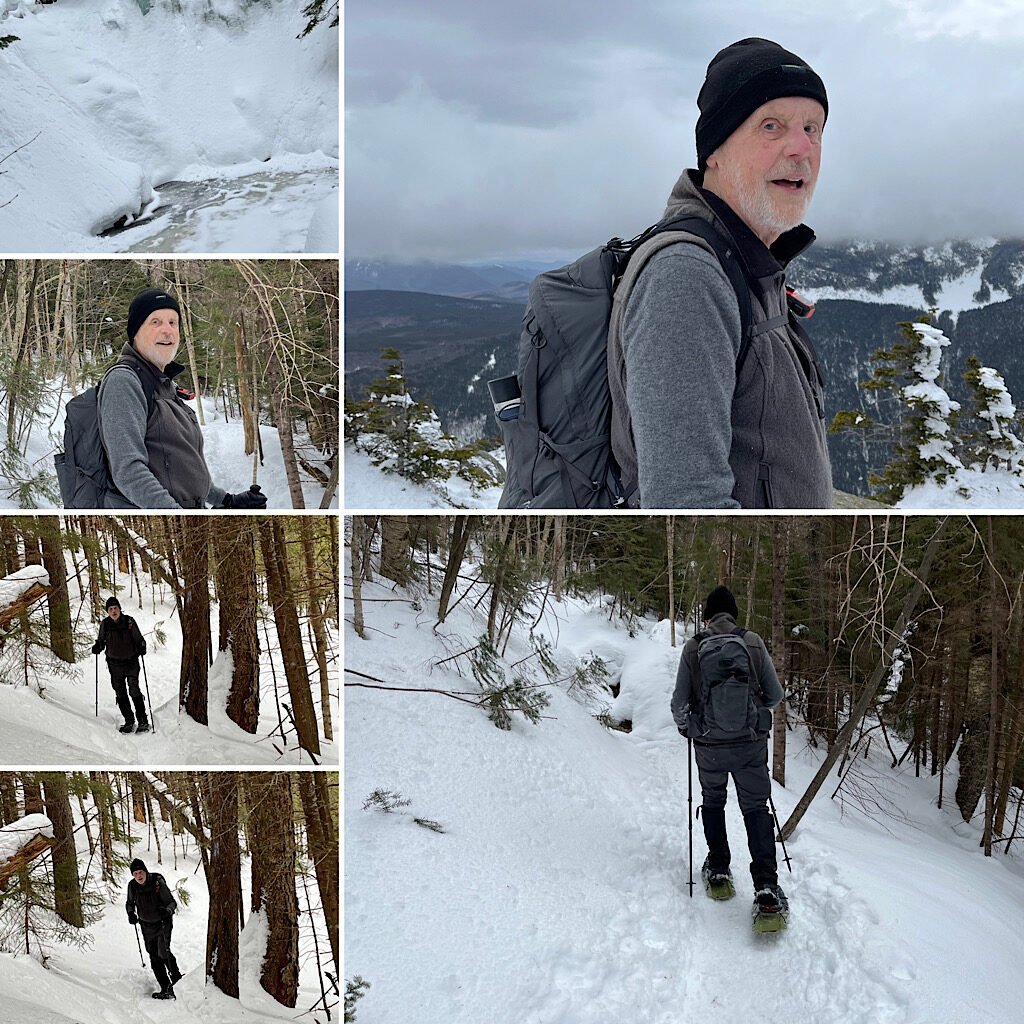 Well done, everyone! Great job! From our awesome guides to our awesome guests alike: our climbers, our snowshoers/hikers, those taking on the new skills, and even those starting on the thrilling life-long adventure called marriage. Thank you one and all very much for choosing Redline Guiding!