Activity Description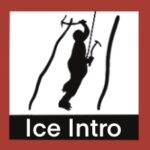 For those who've hiked it all, been there and done that, our intro to ice climbing course offers a natural avenue of progression. Granted, ice climbing is a riskier sport — it can be rough on those bitter days and many won't like it — but for some the extra edge, the danger, the risk, and the freedom of the hills (like the book) that comes with it makes the discomfort and other elements in the ice climber's day worth the price. This course will, as the name implies, introduce you to the ice and the sport of climbing it.
Activity Offerings
Learn the fundamentals of ice climbing in this course lasting 6-8 hours. From car to ice and back again, understand all of the basic aspects of spending the day safely top-roping at one of several gorgeous locations available local to the Mt Washington Valley. From etiquette, to LNT, get a complete overview, and that's just the beginning. Learn to belay, about body position, weight distribution, and your stance. Learn how to be relaxed yet firm as you swing your ice tools with precision. Learn to move. As with all our offerings, please include any special objectives or desires you may have, if applicable, in the comments box of our Booking Form.
What to Wear
Please take your preparation seriously and ask if you have any questions. It can get pretty serious out there in winter. More than you can imagine. To ensure everyone's safety and comfort, we offer this important clothing information:
Think layers. While a ski jacket, for example, may be warm and waterproof, if the insulation can't be separated from the rain/snow protection layer, it really isn't suitable. You will overheat if you need rain/snow protection while ice climbing. Bring independent layers. Having our "Alpine Ready Pack" will solve the matter offering everything you need to stay warm with exception to ice climbing boots and your baselayers and pants. Call if you have questions.
Never wear cotton, even at the underwear level, and those base layers are really necessary. Synthetic materials, wool, and especially performance/wicking materials should be your clothing of choice. Expect to sweat so layers need to be adequate and capable. For all winter activities, in particular, since cotton won't dry and doesn't insulate while wet, cotton can pose a hazard. You will want to wear the right type of clothing and you will want to bring extra.
Belay wear. Being that ice climbing can involve a lot of standing around while not actively climbing, belaying and whatnot, it's possible to get really cold. In particular think of a large, hooded puffy jacket (like the one in our Alpine Ready Packs) to wear while not climbing. Also consider your hands: good climbing gloves and mitts while not climbing.
For footwear, wear proper winter ice climbing/mountaineering boots with proper ice climbing crampons (which can be rented from us or rented locally if we lack your size, even done for you as a convenience for $40 plus the applicable rental fees).
Seriously, in winter, wow… On some days it's cold. Extremely cold. Do take it seriously and, with or without our help, be prepared for it.
Necessary Gear
For your ice climbing gear needs, in addition to your own non-cotton base layers, climbing pants with shirt, and rentable footwear, as described above, we offer three options. Click to expand.
Gear Option 1 - Open
Rent our "
Alpine Ready Pack
" for
$75
/person/day. This option will satisfy all your gear needs to include quality safety layers as well as comfort layers, and rain and wind protection (hardshells), and your food and water needs for the duration of the activity, including
specialty gear
(but excluding the boots). This only leaves a need for personal items such as…
Personal first aid kit/meds.
Personal hygiene items.
Camera/phone (weather-protected).
Lip balm, sun block: SPF 30 min.
Sunglasses (glacier glasses).
Proper footwear (see information above).
Proper clothing layering (see information above).
SPECIAL NOTE: You may get an "Alpine Ready Pack, Lean" without food and water for $60/person/day.
SPECIAL NOTE: You can also order just food and water for $15/person/day. (Available with any option.)

Gear Option 2 - Open
Bring your own pack containing, in addition to the items above, the gear shown in the list below, as needed per the season and objective, but rent any necessary
specialty gear
items in the sub-list below that…
A lined pack with hip belt and room for the items below (~30-40 liters).
Hardshell jacket and pants, or rain poncho (mountain weather can be quite wet).
Mountain-rated insulated layer (mountains are much colder than in town).
Multiple winter-rated mid-layers, maybe a soft shell (much colder).
Food for the day, plus extra.
Water for the day, at least 2 liters, plus extra.
Seasonally-rated hat, gloves/mittens.
Balaclava, face protection, and goggles.
Headlamp with spare batteries (or backup device).
Whistle or sound-making device (sternum strap whistles are okay).
Plus any of these applicable Specialty Gear Items, which may be rented…
Headlamp, $5/person/day.
Trekking poles only, $5/pair/person/day. (If needed for approach.)
Trekking poles, Gaiters, Microspikes (approach/backup only), $15/set/person/day. (If needed for approach.)
Ice Climbing Crampons, $15/pair/person/day.
Ice Climbing Tools, $15/person/day.
Climbing helmet, $5/person/day.
Climbing harness w/ locking carabiner, $10/set/person/day.
Snowshoes, $15/pair/person/day. (If needed for approach.)
Balaclava, Goggles, Mitts, $15/set/person/day (alpine).
Midweight puffy, $20/person/day (alpine).
Down blend puffy (belay jacket), $25/person/day (alpine).
Hardshell pants and jacket, $35/set/person/day (alpine) – Gaiters required.
Ice climbing boots, $25/set/person/day.
Alpine Gear Insurance, $20/person/day.
Plus any outsourced gear items, call for current pricing.
SPECIAL NOTE: If any outsourced gear such as boots (IF we lack your size), we can rent ahead of time on your behalf for convenience charge of $40 plus the applicable rental fees.

Gear Option 3 - Open
Bring everything and rent nothing. In which case, you will need everything from the above lists appropriate to your activity, objective, and expected conditions. Contact us if you have questions, mention it on the booking form, or simply note it when we call to finalize your booking.

Okay… Let's Do This!
Here is the pricing and other information you'll probably want to know.
Full Day Intro to Ice Pricing
For one person
$250
For two people
$375
Added people
$200 each
Course Premiums
Make it private*
Add $75/day
Other Information
The difficulty of this activity is as requested though is inherently tough.
This activity has a 1:4 guide/guest ratio.
The maximum group size is 8 with 2 guides.
For parties larger than 8, please contact us.
Gratuities not included; 15-20% is customary for a good job.
Not ready for this? Try out our Mountaineering Skills or Winter Skills courses. Otherwise, BOOK IT NOW!
* Private premium auto-applied to groups of three or fewer.