Imagine this: the sun is starting to peek above the horizon, a gentle breeze blows, it's dry, comfortable, the temperature's perfect, the right amount of cloud to make the sunrise extra special, and there you are staring into the eyes of your soon-to-be life partner. The vows. The promise. The Justice invites you to seal the deal with a kiss. It happens and it's beyond words. Is this the mountain-top or wilderness wedding of your dreams? This one was (see inset), atop Mount Kearsarge North in Intervale NH on a June morning. And now it can be yours, too. We can't control the weather, but everything else is within our grasps. It's unique. It's special. It's beyond words.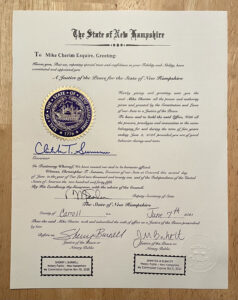 Prices begin at $275* for a basic albeit incredibly beautiful, special, and highly memorable marriage ceremony at drive to spots or locations that are fairly easy to hike to and will go up from there. Variables include specific location, time-of-day, hike distance and gain, difficulty of terrain, time-of-year, formality of dress, and other contributing factors such as third-party charges or transportation, where applicable, and of course if you choose to be guided to some mountain top or wilderness location. This initial pricing includes a pre-meeting (strongly recommended) and we can also go over the ceremony then… an informal rehearsal of sorts. If you want a separate formal rehearsal, that's extra (starts at $175). To get started, please complete the form below and we'll take it from there. If you want to be guided, please fill out our booking form, too. Too many questions too quickly? Don't worry, we respect your privacy. If it makes you feel better, however, do feel free to just contact us. We are here to help you make it happen. It is entirely your day, your special event, and we want it to be absolutely perfect.
Mike Cherim is a Justice of the Peace in the State of New Hampshire. His commission expires June 2nd, 2026 (and will be renewed in a timely manner). See certificate to the left. See Mike Cherim JP on Facebook. *Note: Of the $275 base fee charged, only $5 is for official services in NH, the remainder being for ancillary services only. Vows renewals also performed.
---
Photo/Video Services 📸 🎥
We can bring more to the table than just wedding officiation.
Photography and video production services are available upon request, both in-house and professional referrals. Ask about this during your virtual pre-meet with your Justice of the Peace. To check out a small selection of our photos, see this page as well as older entries posted to the Nuptials Category on our blog. To see some examples of wedding videos, see this page, newer blog posts, or just jump over to YouTube to check out the content uploaded to our White Mountain Weddings playlist.
---
Service Registration Form — Book a JP
Oh boy, this is really happening! Use the form below to set things in motion. * Denotes required field.
---
Helpful Links and Articles
Feel free to peruse the articles and resources below in the planning phase of your wedding.
Your Ceremony, Your Way | Getting Married in NH | Writing Your Own Ceremony | Our Basic Vows (DOCX) | Our Custom Vows (DOCX)
---
Picture Love
Check out these photos/videos from prior services. Displayed here with permission.
Check out our other wedding videos on our White Mountain Weddings playlist on YouTube.