You Make Our Schedule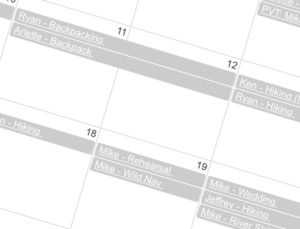 You probably found this page looking for a schedule of when we hold our classes or something along those lines. Well, we don't usually have a schedule as a custom provider. As a custom provider we schedule our classes and such based on your schedule. In other words, if you want to go on a Hike next Wednesday, that's when we'll hike (weather permitting), or if you want to take a Navigation course the following weekend, that's when you'll do it. It's entirely up to you because we work for you.
You make our schedule. Get started by booking now.
Actual Scheduled Events
That said, we will occasionally have a scheduled event or two. Most of the time these are for private groups, clubs, and organizations, but if we have an actual public event scheduled on our calendar, we will post it below. Also note, we will post joinable event information on the Events Category on our blog.
Saturday-Sunday, April 24th-25th, 2021 SORRY, SOLD OUT

A SOLO Wilderness First Aid (WFA) weekend. Click date for details. (CPR/AED-only still available.)

Saturday, May 8th, 2021, 9AM-1PM Joinable Nav Class!

Our poopular Virtual Wilderness Navigation (standard) course. Click date for details.
A SOLO Wilderness First Aid (WFA) weekend. Click date for details.

Sorry, there are no additional events scheduled at this time. Though feel free to create one.
---
If you have would like to establish a private event date for your group, club, or organization, please contact us.
Last updated: April 5th, 2021