A returning guest came to us with the goal of gaining more confidence in winter backpacking, hoping to hike Stratton Peak in the Green Mountains of Vermont, and enjoy a winter overnight at Stratton Pond. On lead for this two day, one night backpack was Redline Guide Arlette Laan. Being that Arlette's a creative soul like us, she opted to author the following summary:
Day ZERO: We meet up and make sure we have all the gear we need. I expect the Appalachian Trail up to Stratton Mountain will be broken out but I'm doubtful the backside will be. So we add the dreaded snowshoes to our already fully laden packs.

Day ONE: We drive to the parking lot on the plowed section of the Stratton-Arlington Road. We hoist our packs and start up the trail. It is indeed hard packed and we can make do with our spikes. My snowshoes will stay on the pack keeping my crocs company. It's a very professional look. Why the crocs you ask? Well I don't want to put my boots back on in the middle of the night for a bathroom visit, especially not while they're tucked away in a bag inside my sleeping bag.

We're both a little wary of not being on top shape but the trail doesn't climb too steeply and good conversation make the time go by quickly. The trees are more and more snow covered the higher we climb. It's dreamy.

The temperatures are amazingly balmy and I end up taking my waterproof socks off, my shoes stay fairly dry and my feet are just too warm. My upper layers come off too until I'm left with just my thin baselayer. In February! This winter has had some major mood swings for sure!

At the summit we feel the windchill and we soon bundle up. What a difference! No way are we climbing the tower. It's too chilly and the steps are all iced over. It's too cloudy for a view anyways. We move on.

The backside is indeed not broken out and we are glad we brought the snowshoes. After a brief lunch we put them on and after dealing with the buckles our hands are slightly chilled. Hand warmers to the rescue! Oh they feel so good!

The trail has a single set of footsteps for a bit but then they turn and leave the trail. Virgin snow lays ahead. We enjoy spotting the blazes and finding the trail corridor. Breaking trail is a little more tiring but the adventure is worth it! We're excited and enjoy the beauty of it.

We discover the single footstep trail again, they just took a more direct route down while we did a major switchback. We're okay with it, we had our adventure, this is easier. The sun is breaking through the clouds and the sunlight feels wonderful. Everything lights up.

We cross a snowmobile trail and aren't too far from the Stratton Pond Shelter but our trail goes slightly uphill. I'm getting a bit tired. The snow has a frozen crust and it's not the easiest surface to snowshoe on. We had idealistic ideas about setting up camp on the snow with perhaps a pond view but instead head for the shelter. Since we're expecting a cold night and we're the only ones at the shelter, we set up our tents inside for extra warmth.

After dinner we head over to the pond to check it out and get our blood flowing again. The pond is covered in ice covered in snowdrifts. It's beautiful with the setting sun.

Back at the shelter I melt a bit of snow to have more water tomorrow (we collected some earlier at a small flowing stream) and then we quickly settle in to our tents.

We are fairly warm at the beginning especially me since I have the company of a Nalgene bottle filled with hot water. The best thing ever! But in the middle of the night my feet get pretty cold. I do get some sleep because I remember dreaming about having cold feet. I add some extra socks and an extra shirt but I really should have eaten a snack and had a bigger dinner. I'm out of practice with this winter camping thing!

Day TWO: In the morning there is the dreaded moment of leaving the sleeping bag but we both succeed and get moving. We take the Stratton Pond Trail which has a well consolidated ski track for us to follow. We still keep the snowshoes on because the surface is too soft for spikes. We get lucky when the ski track follows the Catamount Ski Trail which is a shorter way to get back to the parking lot. We'll take it! A beautiful sunny walk gets us to the end of our trip and we're feeling pretty good about our performance. We did it! Confidence boosted! —Arlette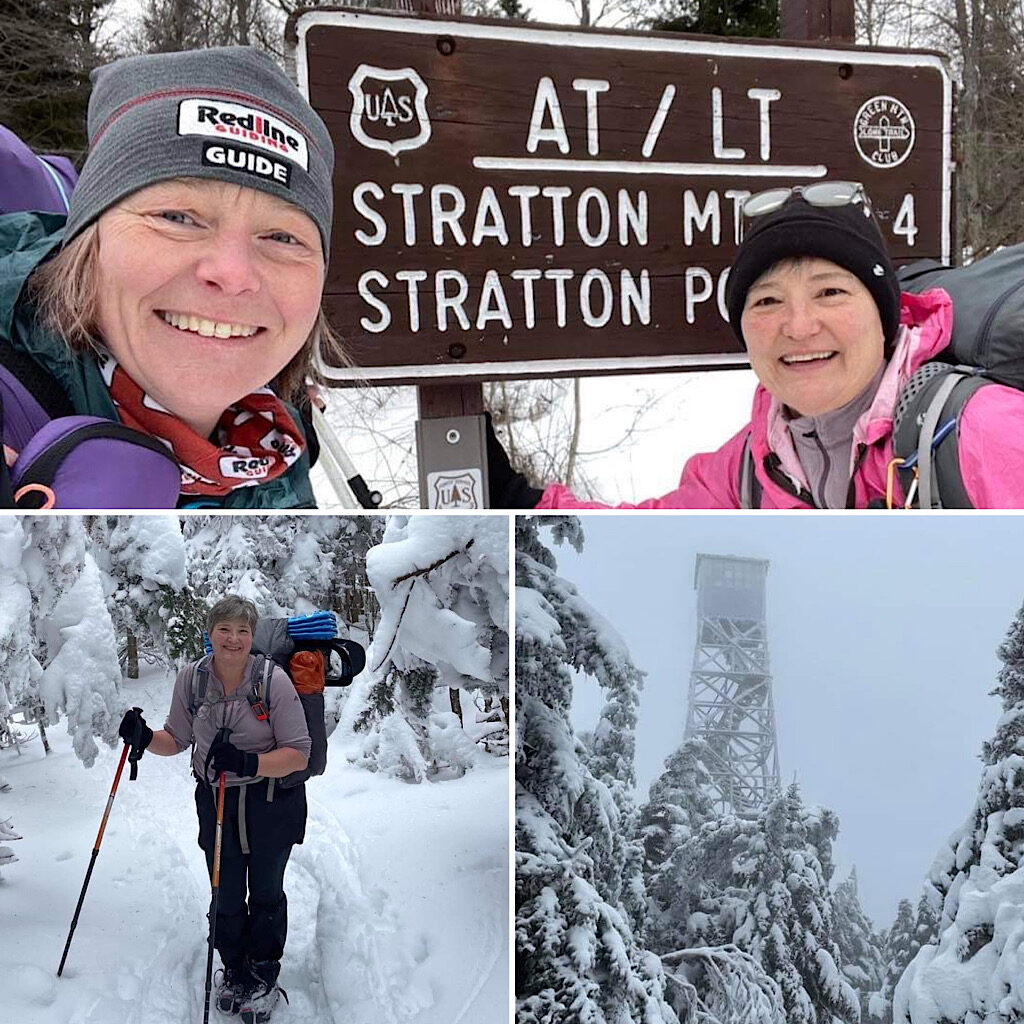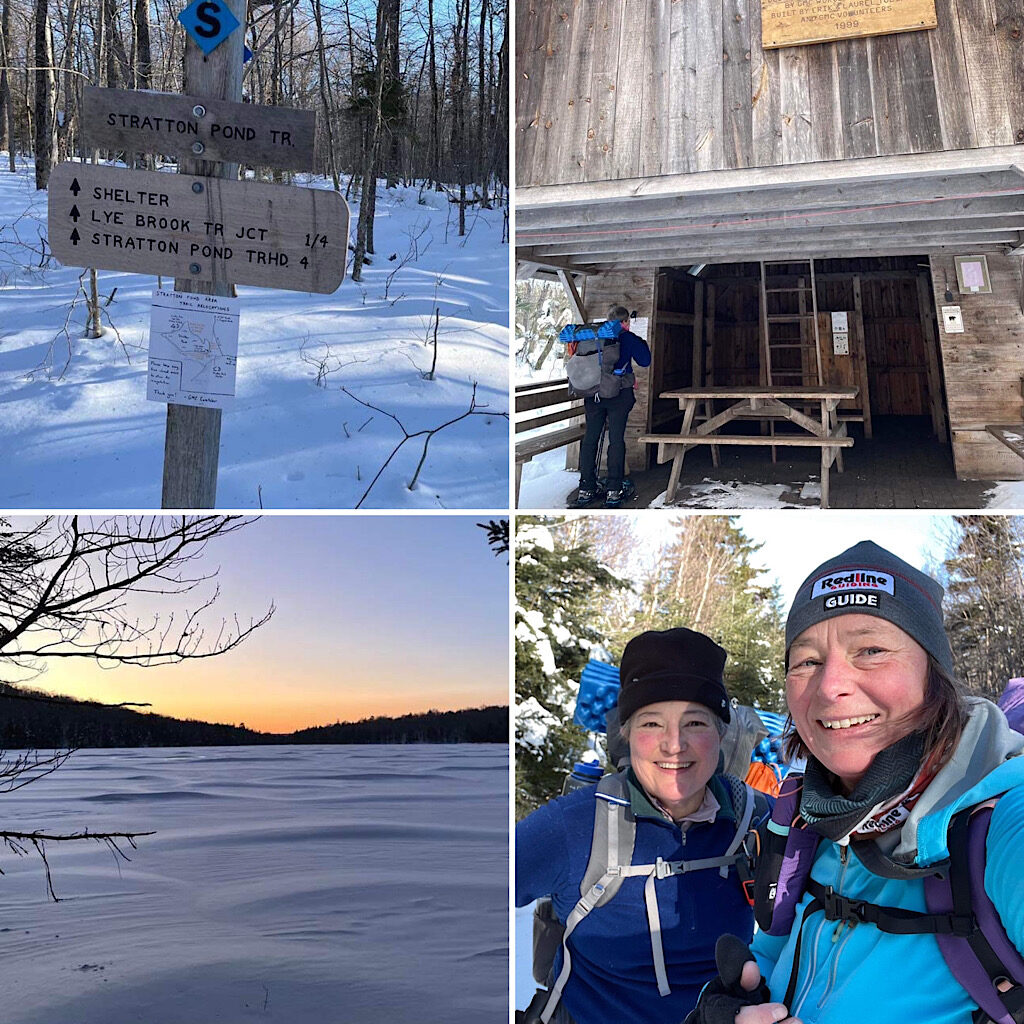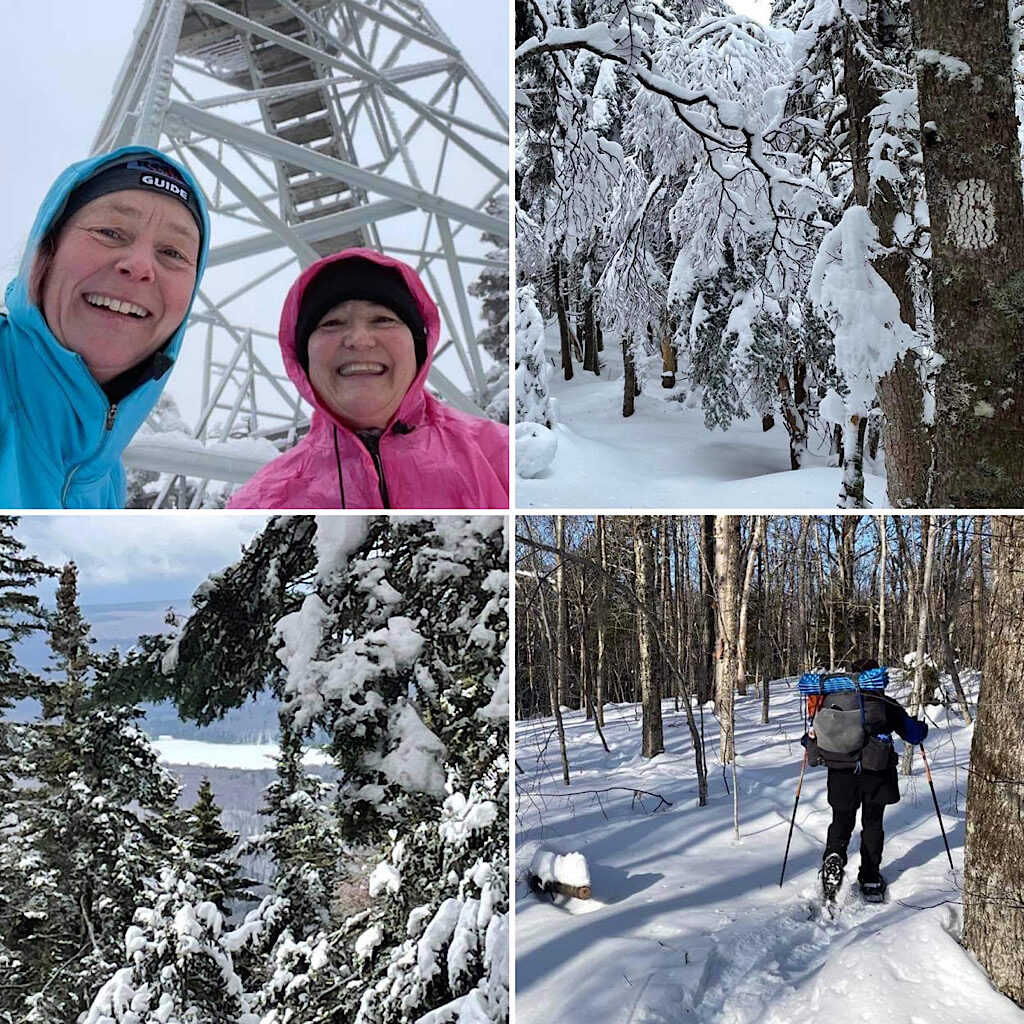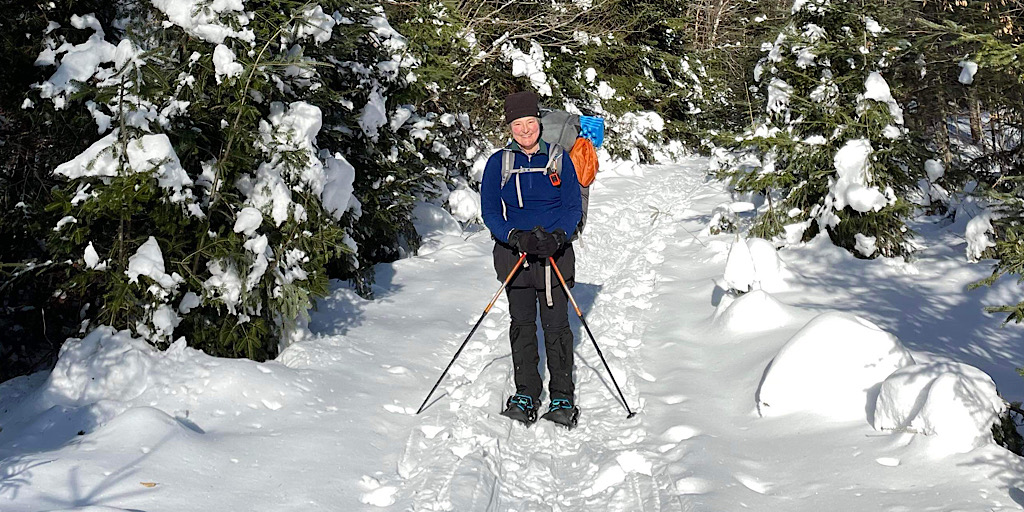 Great job, team! Thanks for building confidence with Redline Guiding!