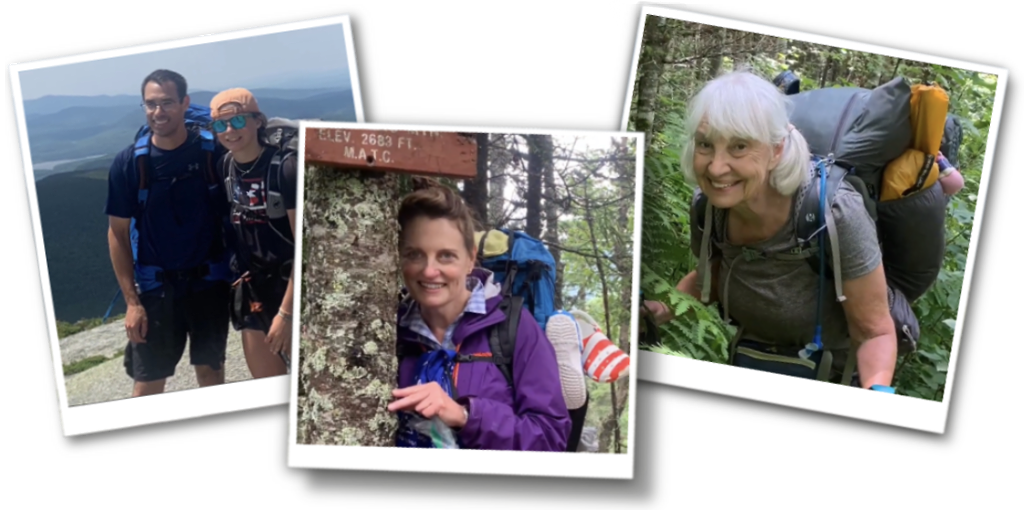 When he finally came back to New Hampshire, Redline Guide Ken Hodges wryly said "ayuh, you ken get theyah from heyah" — obvious to us his stay in Maine had been long enough. As it was he had three backpacking/hiking trips back-to-back-to-back so he got his Maine on. It wasn't originally like that. Originally Ken was signed up for two trips with a nice rest period in between. The first a father and daughter backpack, an introductory sort of thing — this is their video. The second trip on the schedule was helping an oft-returning guest Debby "Bear Repellent" Roberts finally complete the Appalachian Trail (AT) in Maine — this is her video.
Then the call came in. A single guest hoping to hike the lower half of the 100-Mile Wilderness, and the logistics warranted the use of sea plane service from Katahdin Air — well, we won't spoil it, watch her video as well. In any case, when we asked Ken if he was okay with the awesome opportunity to plug the hole between trips he naturally jumped at the chance to extend his stay and have the adventure of a lifetime.

Three Times the Fun in Maine
Trip Report – The Maine Classroom (Backpacking in Western Maine)
A three day, two night backpacking trip starting on the trail for Piazza Rock, the Poplar Ridge Campsite, Saddleback Mtn., Spaulding Campsite, and then The Horn and out for the finish.

Trip Report – Backpacking in Maine's 100-Mile Wilderness with Air Support by Seaplane (Katahdin Air)
A four day, three night backpacking trip starting at Pierce Pond. There they hopped aboard a flight via sea plane to Crawford Pond in the middle of the Maine's 100-Mile Wilderness. From that point they hiked south until they reached Long Pond at Gorham-Chairback. After their arrival the pilot landed at Long Pond bringing them back to Pierce Pond to complete the trip. The reason for the trip was that our guest was section hiking the AT and wanted a companion on that leg.

Trip Report – Section Hiker Debby "Bear Repellent" Roberts' Appalachian Trail (AT) Finish in Maine
Two trips over a four day period with oft returning guest, Debby "Bear Repellent" Roberts. Debby is a 70-something grandmother who also happens to be working on the AT. She recently finished the remainder of New Hampshire on the western side, solo. And with the help of Redline Guide Ken Hodges, she is completing the State of Maine as documented in this video. The two trips herein are an Avery and West Peak on the Bigelows backpack, and the second trip, after a drive from Pierce Pond to Flagstaff Lake, is an A.T. hike from Monson to Moxie Pond claiming Maxie-Bald Mountain and the completion of Maine's A.T. in the process.
Well done, Ken, and to our guests, thanks for adventuring with Redline Guiding!