A thoroughly enjoyable piece penned by Redline Guide Mike Maciel.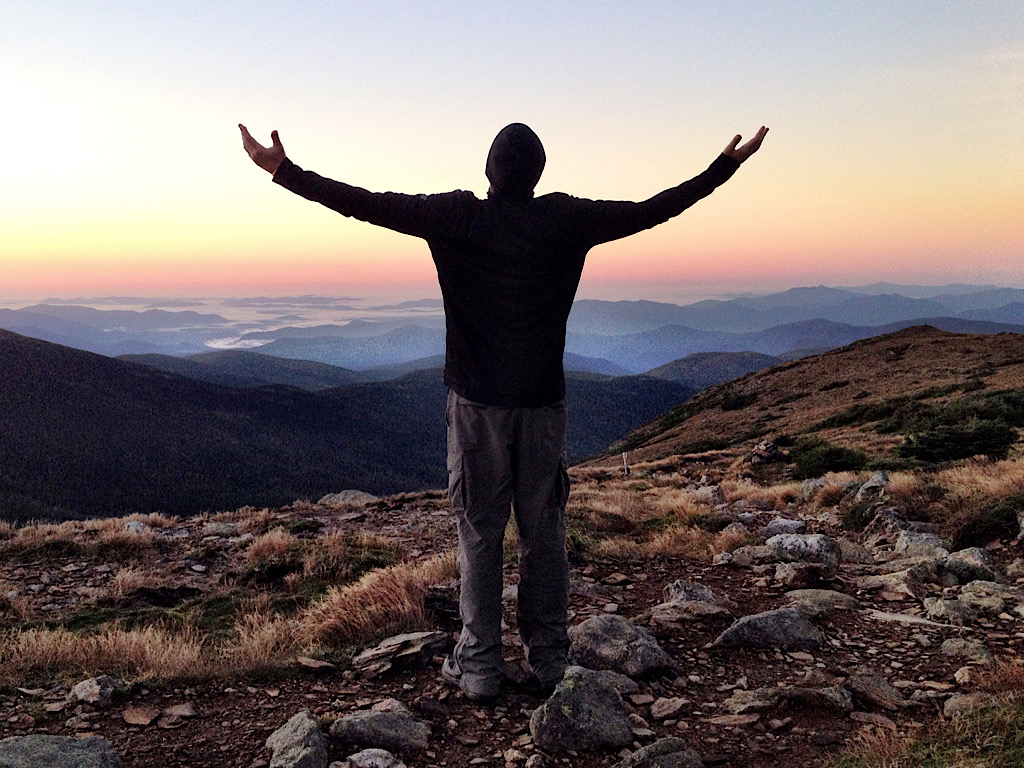 In 2019 I stepped away from a successful sixteen year career in the corporate world of insurance to pursue things that were more meaningful to me. For most of my tenure, the money I earned in exchange for my time had helped me to achieve my goals and build a great life. Eventually though, the ends were no longer justifying the means. I wanted new challenges and new adventures, to feel like I was growing again, and to know that I was making the most of my time. Some people call it early retirement, some call it a pivot, some would probably even call it a mid-life crisis. I didn't buy a sports car though. I traded in my spreadsheets, powerpoints, and conference calls to take a shot at a life that was just a little less ordinary. I wanted to be a mountain guide. Here's a few of the things I learned along the way as a I transitioned away from life as a weekend warrior and spent my first full year working at Redline Guiding.
We're Not in Kansas Anymore
Corporate life is a strange place. Pop culture knows this. Whether it's "Office Space" or "The Office." What people say. What people wear. How people interact with each other. How conflicts are resolved, or not resolved. In 2002, my first corporate job interview involved cover letters, resumes, a suit, a variety of questions from multiple people, a credit/background check, and a drug test. It was quite a process and that was almost two decades ago. Over time personality tests and other hurdles have been added. My colleagues and I would often joke that we probably could not get hired again up against the current standards. My job interview at the guiding company was an afternoon out on the golf course. In case you are thinking that sounds like its own version of stuffy and uptight, it was not. There was laughing, swearing, and a couple of beers. Mike Cherim, the owner of Redline Guiding, was learning how to golf. On the first tee he lost his grip and basically threw his driver at me, luckily I passed the reaction test. I had a great time, while also wondering if this was some sort of Karate Kid/Mr. Miyagi, golf is a metaphor for hiking, wax on/wax off sorta thing. It was not. I think he just wanted to enjoy his afternoon and make sure I wasn't a jerk. Whether it was the beer I bought him or guilt he should have felt for trying to decapitate me, Mike decided to take a chance on me and gave me a shot as a mountain guide intern so I could learn on the job. My new adventure was about to begin.
Professionals have Professional Gear
I had been hiking for the last ten years, mostly as a basic weekend warrior. I thought my gear worked well for me and the situations that I put it in up to that point, but I was also completely self-taught. Very quickly I learned that some of my gear was okay, some of it was absolute junk, and some of it couldn't even be judged because it was simply missing entirely. Thoreau had warned me to beware of all enterprises that require new clothes. I didn't listen. By the end of my first year I had replaced nearly every meaningful piece of equipment I owned. (Frugal guy sidenote/warning: quality gear is not cheap. Part of being a professional, is looking like a professional.)
Imposter Syndrome is Real
I work with a really impressive group of people at Redline Guiding. While I had been playing traditional sports all my life, most of them had been spending their time in the mountains getting a head start. International peaks, long distance trails and triple crowns, first ascents, fastest known times, gear ambassadors. Trying to make the jump from recreational hiker to professional threw this gap in my face immediately. It wasn't them, my peers were all great, it was their damn resumes. Whoever said that comparison is the thief of joy knew what they were talking about. A few years earlier hiking had helped me through a difficult time in my life. I had suffered through a failed engagement, fallen out of shape, lost my confidence, and generally become broken to the point where I was a shadow of my former self. When I found the mountains, that slowly started to change. Hiking slowly built me back up piece by piece. Every trip, there was that point where I wasn't sure if I could make it, but I pushed on. Each summit brought more of my confidence back. It's counterintuitive, but over time doing hard things made my life so much easier.
When I focus on myself, I'm proud of what I've accomplished in the woods. When I look at my peers, I still feel like an imposter sometimes. I know I haven't found my ceiling yet and there is still plenty of room to grow, but this is one of the prices you pay for pushing yourself. On the flip side, the best way to learn and grow is to immerse yourself with people who are what you aspire to be. It's a highly effective strategy, it's just not always easy. But then again, nothing worthwhile ever is.
There's More to it Than Walking Around in the Woods
At its simplest form, hiking is not much more than walking, uphill, slowly, while carrying stuff. There's a lot more to working outdoors than that, though. I had to get my Wilderness First Responder certification. I took a Leave No Trace Trainer course to increase my knowledge of wilderness ethics, low impact use of the outdoors, and how to teach that to others. I tagged along and sat in on a number of other courses that were being taught at Redline, each time picking up more knowledge and sharpening my skills in areas like Wilderness Navigation, Camp Craft, and Mountaineering Skills. I started the process of joining a search and rescue team.
This year I'm signed up for an outdoor leadership course through the AMC. Even though I'm not a backcountry skier, next winter I may look to increase my avalanche training. I've started paying way more attention to the weather (see next). No matter where I am, it's not uncommon for me to be checking various sites like the MWOBS Higher Summits Forecast and Mountain-Forecast to see what's happening up there when I'm down here. I have to anticipate things that my guests might ask about or be interested in: flora, fauna, geology, history, and more. Even if I'm not a gear nut myself, people love to talk about gear, baseweight, our opinions on this or that new thing, etc. I also have to be as familiar as possible with a good portion of the State of New Hampshire. Someone may want to hike a mountain I haven't been to in a couple years. It's one thing to miss a trailhead and drive around misplaced with my friends or by myself, but that's unacceptable with a guest. If I have to go out and reacquaint myself with a certain area ahead of time to ensure I can provide someone with a better experience, I'll do it. I'm more active on the internet forums to stay on top of what's happening, trail conditions, to answer questions, build relationships, and to help promote our company when appropriate. Professional development never stops.
Mountain Guiding is Not for Weather Snobs
I have never been very myopic about my goals. Life is a grand adventure and I like to experience as much of it as possible. Travel, reading, cooking, spending quality time with my friends and my family. There is nothing better than standing on top of a mountain on a beautiful day and being able to see forever in every direction. The cool air in your lungs, the vibrant colors. I want it to be like that every day for myself and for our guests. On my own, I could pick and choose, cherrypick my conditions to make it happen. If it wasn't a nice day, I'd just do something else I want off of that long list of things that make me happy. Very rarely would I get stuck outside in poor conditions. The muddy slogs. Spring shoulder season. Bugs and downpours. Breaking out a remote trail after a winter storm. Bitterly cold mornings. Sometimes as a professional you don't have a choice. People travel from all over to experience the classic New England scenery and to take their shot at the specific goal they have chosen. If they are only here for a day, we do what we can to make it happen. Safety is always going to be our first priority, but "Type 2" fun comes with the territory in this job. At least my gear is better now, right?
Using Your Body for Work is a Full Time Job
There is no such thing as needing to be in shape to work a corporate job, as the plight of the average citizen's waistline has shown us. Round is a perfectly good shape, is it not? Working from home for nearly a decade had made this day to day lack of accountability even easier. Stay up until the wee hours of the morning watching my beloved Cubbies win their first World Series in over 100 years? NBD I'll just take a PTO day. Bachelor party in Vegas? Maybe we'll keep our calendar clear for a couple days when we get home. I generally stayed in decent shape, but for as long as I can remember, most of my years followed a familiar cycle. I'd start the New Year feeling a little bit lethargic. Put in some solid effort, lose weight in time for summer. But beers and burgers taste so much better in the sun. Then it's football season and almost equally important, football snacks. Oh, now it's time for Halloween candy, I'll get peanut butter cups "for the neighborhood kids." Love me some Thanksgiving, it's like chubby kid Christmas. Somebody say Christmas? Cookies and parties, parties and cookies. You get the point. Most of us have our ups and downs throughout the year. I stayed in decent shape, but if I went out for that first winter hike of the New Year feeling a little sluggish, it wasn't a big deal.
When you work in the White Mountains, you have to be on your game year 'round. At the end of the day, I am my guests' insurance policy. They may think they are paying us to get them to the top, but what they are really paying for is to get them back home safely! There is no room for half-assing it in that environment and I take that responsibility seriously. So, I still have my fun, but now it is more about picking my spots and knowing that sometimes I'm going to have to say no or dial back the plan. The default answer can no longer be yes, not to everything.
Paychecks can Come in Many Forms
In the immediate aftermath of my career pivot, I basically traded what I'd earn for an hour of my time to what I now earned for a full day's work. That's a pretty big swing, even bigger when you consider that I wasn't going to be working every week. But most people don't become mountain guides so they can get rich financially. It's important to remember that a paycheck can come in many forms. I became restless in my corporate career when I felt that my job was no longer meaningful. I took great pride for many years in being able to help people, whether it was our customers or my peers. When it seemed that the opportunity no longer existed to do that the way I wanted to, I was no longer comfortable with the straight swap of my time for money. If I kept working I could buy a nicer house, or a nicer car, but no matter how much I made I couldn't buy meaning. That's just not how it works. Our time on this planet is finite, and I wanted to make the most of that precious resource.
I love to take people out into the mountains who might not feel comfortable going out on their own. Gimme all the slowpokes and the timid folks, the beginners who are just starting out. I love to share my appreciation for this beautiful place with our guests. I love to help push them (safely) to the edge of what they may think they are capable of. To give them that amazing experience of what it feels like to stand on top of a mountain you maybe weren't so sure you could climb. I know first hand it can be life-changing, to feel like anything is possible. To see their joy, to see their confidence grow, to have someone tell you this was the highlight of the year, or something they know for a fact they couldn't have done without you. You can't put a value on that kind of paycheck. My new office is a place of beauty, experience, and adventure. I get paid in scenery, sunrises, shared snacks, and smiles. It's where goals get accomplished and dreams come true. Paychecks have many forms, and I feel like I get paid more now than I ever did before.
---
About Redline Guide Mike Maciel…
I am a guide/photographer for Redline Guiding. If you want to try something a little more intense, we have the people and the programs for that: intro to ice climbing, mountaineering up Mount Washington via the Lion Head Winter Route, backcountry ski tours, a winter presi traverse, and more. We do everything from nature tours to weddings and wedding/engagement photography as requested. We've portered packs for backpackers concerned with weight and even made a technical pack recovery off of Zeacliff. As owner Mike Cherim likes to say: "Yeah, we can do that." But if you are just starting out, looking for some company on your 4000 footers/52 With a View, or a little nervous to try hiking in winter, I'm your guy. I'd love to help you reach your goals, because helping others accomplish their goals is my favorite part of being a mountain guide.

Thanks for a great piece, Mike. If people are indeed wanting to become a mountain guide, this is a must-read.