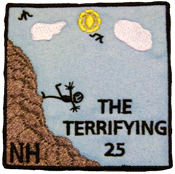 We had led this guest previously, occasionally wanting our leadership for certain parts of a quest he was working on. Namely he was working on completing the Terrifying 25. He will earn the cool patch, inset.
On this trip our guest had some things to clean up, like the upper walk-in-the-park section of the Huntington Ravine Trail. He had taken on the scary sections with us. He also had to get the headwall part — the crux — of the Great Gulf Trail. Previously Redline Guide Will Murphy had taken him on that trail as far as the foot of Sphinx Trail, but the toughest section remained. To do this the team used the Mt Washington Auto Road to access the "Cow Pasture" parking space to begin their loop up high. To begin they finished the Huntington Ravine Trail, as noted, then they took the northern bit of the Alpine Garden Trail to the Auto Road, crossed that ribbon of asphalt, then decended into the Great Gulf Wilderness via Wamsutta Trail. This would place the team very close to the start of the needed crux section of the Great Gulf Trail. From there they would climb up, claiming the whole trail finally, then back to their car after an emotional finish at the Gulfside Trail junction. Will documented the trip by furnishing a number of photos and video clips which we complied into this short video. Enjoy!
To the team, great job. And to our guest congratulations and thank you for adventuring with us.