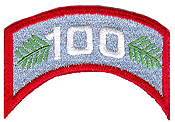 Remember Bob? The fellow from Maine? The one with the concerned wife? The one who hired us at the insistence of said wife, to help her 77-year-old husband complete the trailless New Hampshire and Maine peaks that make up the
New England Hundred Highest
(NEHH)? For those who don't know, let's bring you up to speed first… before we dive headling into the finish. (That's right, we said
finish
… whoops, we should have made a spoiler alert.)
First of all, for the entire campaign, Bob was paired with Redline Guide Ken Hodges. To make a long story short, those two got along great. Their first hike, however, didn't go as planned. It ended up being a foiled attempt on Mt Nancy. The men redeemed themselves, though, by conquering it on a second attempt. They then defeated Vose Spur, followed by Peak Above the Nubble, then finally grabbing Scar Ridge for the New Hampshire finish.
The two then moved on to grab the Maine peaks Bob needed. These they did in two longer-duration trips. They got six mountains on the first trip, then finished with the two remaining peaks on their final trip — this trip. Specifically, Bob finished on the summit of Fort Mountain in Baxter State Park in Maine (home to Katahdin) after taking on Boundary Peak.
What follows are some words and images from Ken on each of the mountains.
Second to Last: Boundary Peak, Elevation 3855′
First up we have Boundary Peak which straddles the US and Canada.
In our quest to assist our guest Bob to complete the NE 100 highest list we headed up to hike Boundary Peak and the Fort Mountain. Bob and I broke camp on the shore of Flagstaff Lake Wednesday morning and drove up to Mount Gosford Park in Quebec, Canada. From there we drove many miles in on dirt track to a parking area. Once there we hiked up a steep 4-wheel drive tract out to the [US/Canadian] boundary swath we hiked about a mile to the summit of Boundary Peak (Panther Peak, if you're Canadian) passing the hunting blinds and salt licks along the way. This is a short and easy hike which is definitely preferable to bushwacking from the U.S. side. The views are sweet, too. —Ken Hodges
Last One: Fort Mountain, Elevation 3861′
Next up we offer an overview of their finishing hike to Fort Mountain located in Baxter State Park (BSP).
Boundary Peak was number 99. One to go! Once back in the good old USA we started the long drive over to Baxter State Park to climb Fort Mountain (#100). We arrived at our campsite about 7 pm. On the drive in we spotted several moose, beaver, and a photogenic barred owl. During the night we were serenaded by coyotes. We hit the trail the next morning and we were on the summit of North Brother before lunch. We spoke briefly with a woman who is a follower of [Redline Guiding's] blog posts. We dropped down the summit and started on the one mile herd path to Fort. We summited a while later where Bob was served with a frosty cold Allagash White beer in honor of his NE 100 accomplishment. Way to go, Bob! —Ken Hodges
Well done, Ken, and congratulations Bob on completing your New England Hundred Highest.