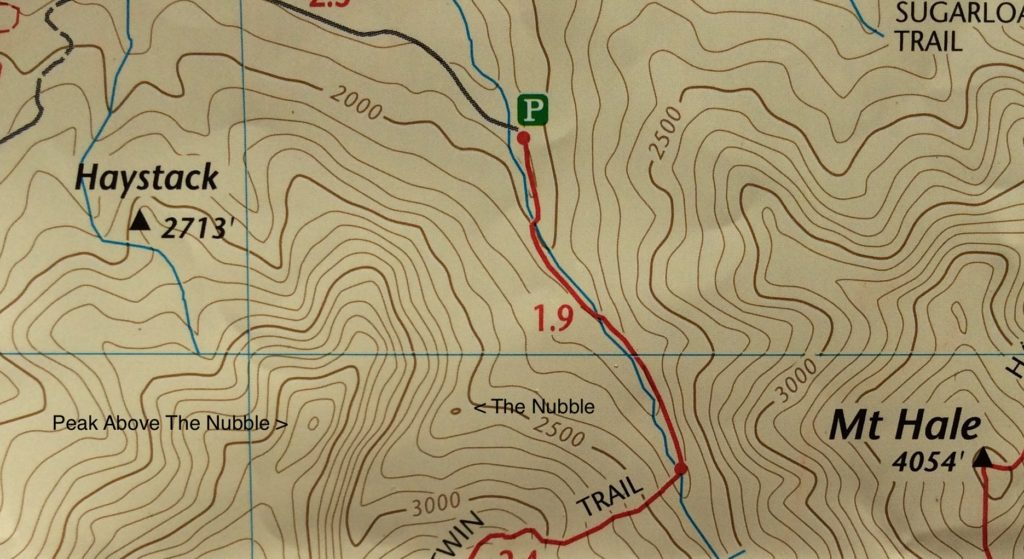 Also known as PATN, Peak Above The Nubble is another of the New Hampshire-based New England Hundred Highest peaks that lacks an official trail. At 3813-feet, it is the 88th tallest. Today's mission — assigned to
Redline Guide
Ken Hodges
— was to lead returning guest, Bob, to the peak's peak.
If you haven't been following, Bob's wife insisted he hire a guide to be his knowing companion and see to it that he stay safe and comes home in one piece. Apparently, she has a fondness for the fellow. We understand, so do we. He and Ken have been enjoying some terrific hikes: Mt Nancy (after one thwarted attempt), and Vose Spur.
What follows are some words and photos courtesy of Ken. Enjoy!
On Friday, July 28, Bob (a loyal, returning guest), and I continued his quest of the NE 100 highest on Peak Above the Nubble, a.k.a. PATN. With a beautiful forecast of clear sunny skies and temps in the 70s, we drove up Haystack Road about a mile and parked at FR 304A — marked by three boulders. About 5 minutes up we hung a right at a narrow herd path marked by a small cairn. This was the beginning of a herd path that was well defined and flagged most of the way, till near the top where it was fainter. We paused at a sweet viewpoint with nice views towards the Presidentials, North Twin, and the Sugarloaf Mountains. We continued upwards to the summit where we had a relaxing, bug-free snack break while taking in the views. On our descent we followed a flag that took us off the herd path so we followed our compass bearings towards the car, eventually rejoining the herd path. PATN is a relatively moderate hike with a herd path that is becoming well established, particularly compared to the first time I did it six years ago. —Ken Hodges