So, you want to hike in the White Mountain National Forest (WMNF), right? Great. You will reap rich rewards. You already know this part, though. You've seen the photos others have posted online or read materials on the subject. You've noted the gorgeous Wilderness areas, the rich northern mixed forests, the lush and mysterious boreal zone thick with aromatic conifers, the stunted fir and spruce of the wind-blasted "krummholz" zone, and the barren alpine tundra found on places like Franconia Ridge, Mt Moosilauke, and the Presidential Range including the Northeast's tallest peak, Mt Washington.
This is what you've seen or envisioned, but only at a distance, far away where it looks like you can summit easily going from there to there, then up that, saying this with one eye closed tracing the far ridge with your index finger. But what's it really like? Up close and personal. Rock by rock, root by root. Let's look first at the mountains. Then we'll talk about the trails, the weather, and more. Hopefully when all is said and done, this short piece will enlighten and inform in a way no distant view can offer.
About: The Mountains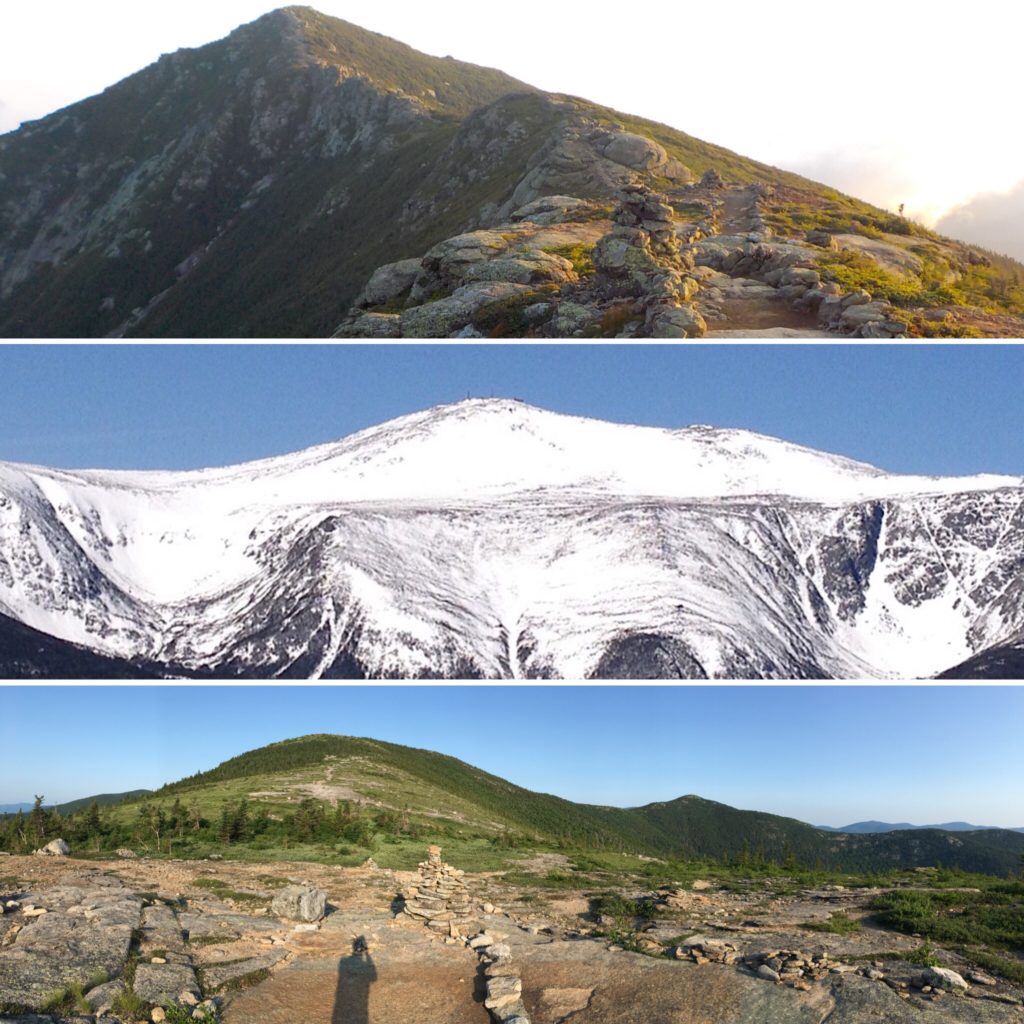 There are numerous mountains in the Whites besides the ones we listed above. There are forty-eight 4000-footers, the better part of a list of 52 peaks with a view also live in the Whites, and many, many others.
Most have densely wooded summits, but of those many offer pocket views or rock outcroppings of some sort — in addition to the clear running streams and mountain ponds. They're particularly stunning mountains to most who admire them up close and in person as well as afar. This is especially so for those who hike them thus "earning" the beauty. "One of the rewards," they will tell you.
The summits that aren't grown in, like the ones we mentioned in our opening paragraph, are remarkable to such an extent the common adulations fail to deliver. We settle on telling others they're unbelievable and otherworldly. It's the best we can do. They're really that special!
The Appalachian Mountains, of which the mountains in the WMNF are a part, used to be much taller. Alps-tall, ~10,000-feet, but 480 million years of weather and ice ages have had their way with them. What's left is a flattened remnant and mostly revegetated, though still bearing steep sides dotted with landslides littered with talus, avalanche paths, random glacial erratics, towering cliffs, and a ton of geology for those interested in such things. The mountains have filled in with organic matter over the years. But extensive rock isn't far off. If not walking directly on it, or hopping from one to another, rock is rarely more than a few inches under our feet.
About: The Trails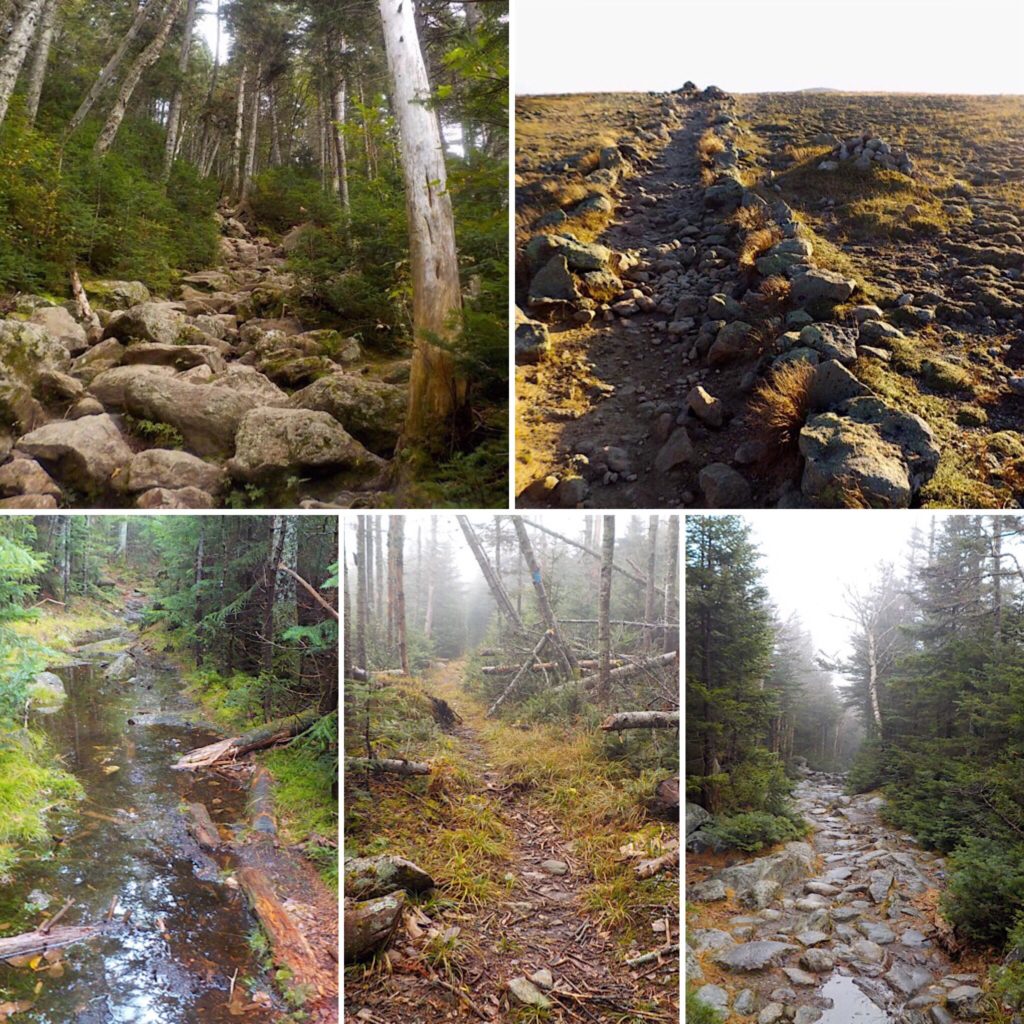 Those aforementioned photos and adulations, however accurate, sometimes belie a small fact: the low mountains of New Hampshire are wicked tough as we say up here! Not only are there challenges to life in the various zones described, but getting to them is often demanding both physically and mentally. By and large, the trails in the "Whites" mean business. First of all they often rise steeply. We imagine the early conversations from those who set the trends in the area's trail-building went something like this.
Sir, you asked me to blaze a trail to the top of this mountain. I will happily oblige you but I first must ask: do you have any particular route you wish the trail to follow?

To which our imagined reply would be:
Kind sir, please, of course, make it go up.

Ayuh, good old fashioned Yankee frugality at its best. The simple solution. Straightforward. Hard as nails. Get it done. And so here in New Hampshire, here in the Whites, the trails go up. This isn't like it is out west where the trails are known to be perfectly graded bridal paths that switch back and forth taming the steepness to allow for equine travel. Hike on a trail in the Whites and you'll be rising at roughly the rate of 1000′ for every mile that passes under your feet. It's work. But it's fun — and rewarding.
This not only means that hiking these trails is physically demanding, but running straight up and down the mountains here they are like little rivers when it rains. They channel the water causing erosion. This exposes roots and rocks, deepening the channels, thus exacerbating the problem. It's an endless cycle which the maintainers try to mitigate with wood and rock "water bars." These, they hope, will channel water off trail… or try to failing as much as they succeed at times. And the trails are known for their rocks and roots as a result. Some don't mind. Some can sail effortlessly from rock to rock. Others, however, meandering around every rock or between each root suffer as they have to slowly and meticulously navigate the terrain.
Besides the serious way in which these trails rise, and the resulting erosion problems, the prescribed trail corridors are in many cases either lacking or completely overblown (and sometimes littered with downed trees). By design the trail corridors in the WMNF are supposed to be four feet wide by eight feet tall with a 24-inch treadway or footbed, unless within a Wilderness area in which case those dimensions drop to 3'x6'x18″. Many of the trails greatly surpass these measurements due to excessive use resulting from their popularity and subsequent overuse. Other trails, however, especially in some of the designated Wilderness or other remote areas, are so indistinct that merely hiking them requires specialized navigation skills and path-finding abilities. Moreover, these trails are akin to carwashes on rainy days or when it's dewey out and will completely drench you from the thighs down.
About: The Weather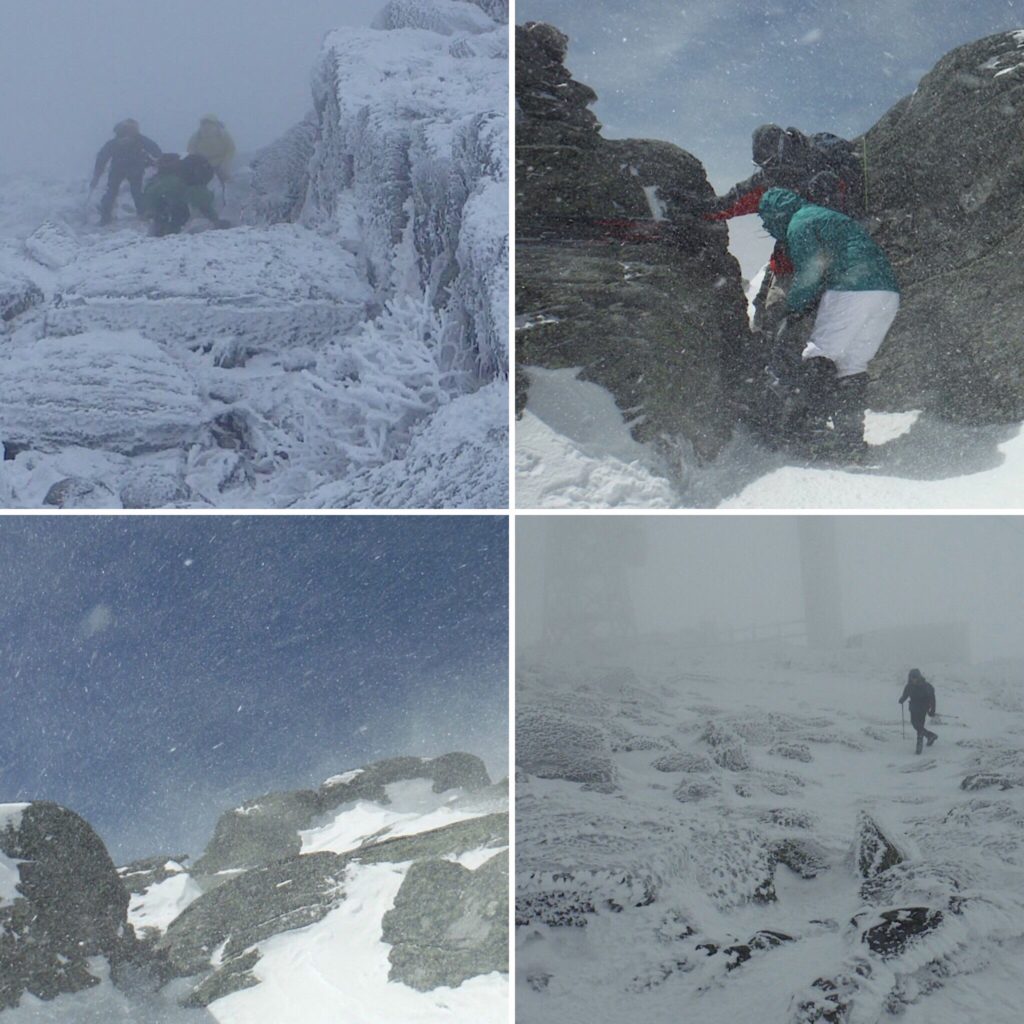 Well, in a nutshell, it can suck. It is, after all, mountain weather and it's common knowledge to those informed of such things that mountain weather will very likely be different than the weather at the base of a mountain. Up there it is usually colder, windier, and wetter. Depending on where you are hiking in the Whites, this statement may be need to be emphasized. The weather on Mt Washington, for example, is known to be pretty extreme. The world's worst, they say.
That said, the weather is often quite lovely in the mountains in the warmer months when compared to the valleys and notches. While feeling sometimes oppressive down low, at elevation the exposure and altitude provide cooling breezes. It's very similar to being at the beach during an on-shore breeze on a hot summer day. It feels great!
On a typical day, off mountain, the non-winter temperatures will range anywhere from freezing to roasting in the valleys. In the summer there is often a feeling of mugginess from the high humidity often present. Many people think of New Hampshire as being cool, but they must mean that in the figurative sense since locally it feels almost oppressive at the height of the season. That said, everyone's right. They say that if you don't like the weather here in New Hampshire just wait a minute. There is something to this statement.
About: The Winter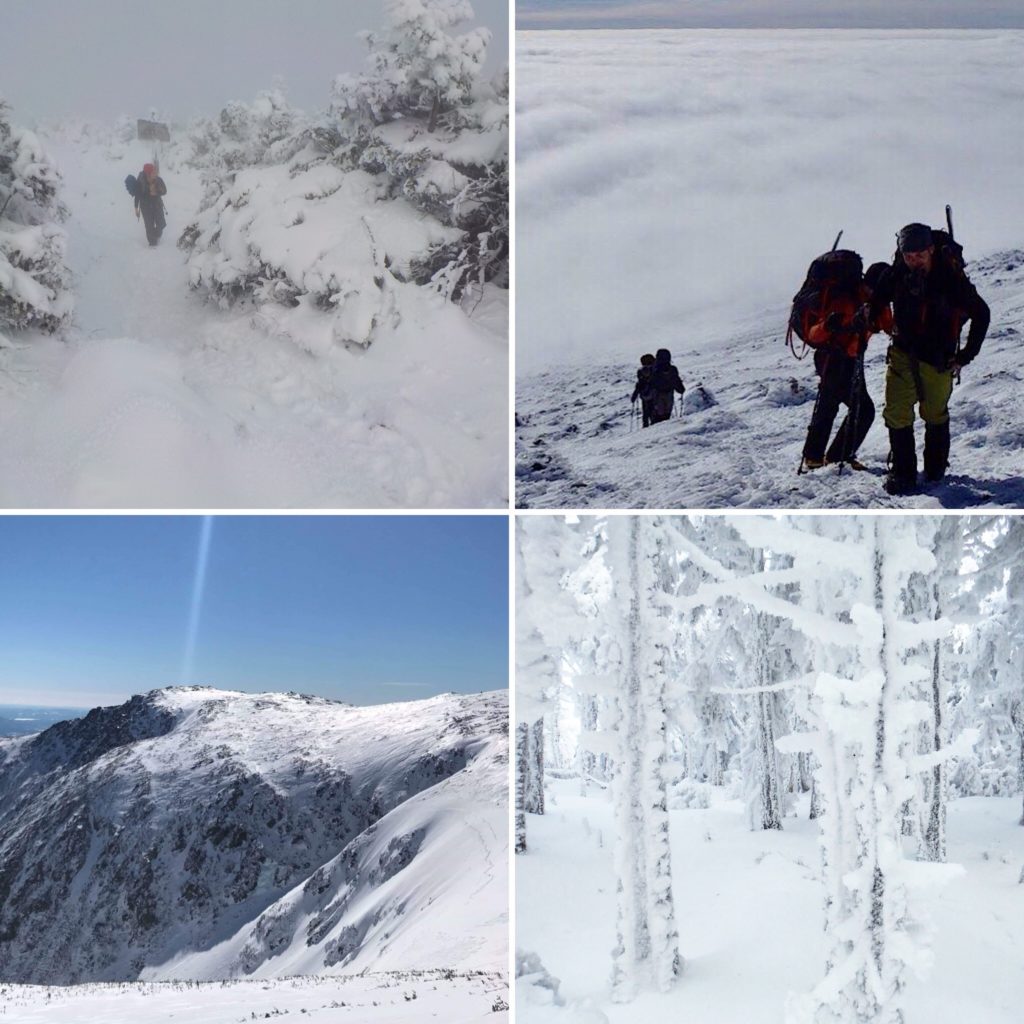 Many claim that winter — which includes some of the spring and some of the fall in the mountains — is the best time to hike in the Whites. While conditions can be trying, even dangerous at times due to snow and often extreme cold, and certainly less forgiving to hikers old and new, the mountains are exquisitely pretty in the winter, the trails become smooth snowshoes paths, although still steep and ungraded. Access to the trails, however, becomes more difficult with even some of the popular 4000-footers requiring extra road walks on miles of snow-choked seasonally-closed access roads.
About: The Subjectivity
If you regularly hike in a part of the country where the trails are graded and tramped smooth mitigating the necessity of negotiating rocks and roots, hiking in the Whites may prove to be, at best, a massive and embarrassing disappointment. Such was the case for one visitor to comment to a state newspaper the following:
The trails in the White Mountains are a disgrace. You have to negotiate boulders and, basically, hike rocky stream beds to gain the most meager vistas and distance. These trails are dangerous and limit safe use to only athletes. The Mount Jackson trail (Webster-Jackson Tr) raises those hazards to unacceptable levels. The boulders should be reduced to proper steps and the last section should have handholds for safety. —Withheld to prevent further embarrassment

If you can appreciate and endure the trails, however, to cast aside any ill-informed expectations — and this article hopes to do just that — the rewards are plentiful. Welcome to the Whites. We love it here and hope you will, too.