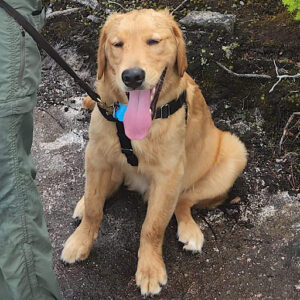 People will sometimes question the value of hiring a hiking guide. We're asked on occasion. The answer for us is easy: a guide contributes a lot to the overall enhancement of the experience by way of myriad methods and practices. It makes sense. We know the mountains extremely well. Including how rough our trails can be but what rewards they bestow upon us. We're well-rounded — even though each of us has our specialties — and we seem to be able to understand our guests' wants and needs thus selecting the right quests.
That's what Redline Guide Howard Aronson did during two half-day hikes for a couple from Maryland and their dog, Yankee. They were impressed with Howard effectively contributing the title of this post, extracted from the testimonial below. Check it out. What wonderful comments!
We had a great two hikes with Howard Aronson! A wonderful conversationist who educated us about the environment, hiking techniques, and more. The guide always makes the trips we do and Howard most definitely did! Glad I contacted you! PS. He was sooo kind to my doggie, Yankee! —R&SN, Rockville, MD
Nice way to make the trip, Howard, and to our guests, thank you for adventuring with Redline Guiding!