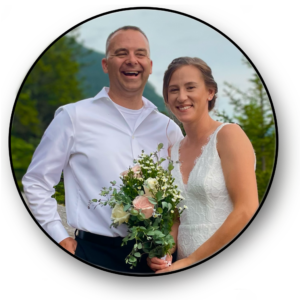 Elephants never forget, or so we've heard. Or at least that's what we think we've heard, anyway. We don't really remember. After all, we're not elephants! And neither is "Elephant Head," actually. This massive arete or buttress of rock stands its sentinel's watch looming over the east wall of the entrance or "Gateway" to Crawford Notch and the State Park bearing the same name therein. This is a popular wedding spot, one we have used twice before, plus a third time with a same-names couple.
Also popular is Mt Willard right across the street (albeit it's in an altogether different town and county) — it's one of fifty-two such peaks offering views. Take your pick, really. This list is a practical menu of wedding spot options for those so inclined. If you're looking for a place to get married, Crawford Notch is a good neighborhood. There are several other locations nearby we're not even mentioning.
Officiating this wedding was Redline Guide Mike Cherim — a New Hampshire Justice of the Peace (JP). Also present, besides the bride and groom — Lauren and Dan, respectively — were Redline Guides Mike Maciel and Jeffrey Shutak. Mike was there to serve the couple as their wedding photographer, and Jeffery, who's also a JP, was along to observe the process and ceremony. It was a terrific wedding, the evening a beautiful one. It really doesn't get much better, in actuality. No bugs, not humid, calm breezes, comfortable temperatures, and great skies. Perfect.
Mike Maciel's photos are in the processing stages, but in the meantime, we were able to put together a little video for the couple, below:
Great job everyone. And to Lauren and Dan, we offer a hearty congratulations. Thanks for choosing Redline Guiding.