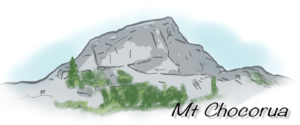 A returning guest who was just with us wanted more. While the first hike, on Pine Mountain, got her sense reeling a bit — as requested, and she loved it — there could have been more to it. We were thinking the next step for her could be the Ridge of the Caps this time spending a full day with us, by-passing Jefferson to allow more time for a relaxed Jewell Trail descent. That said, what with the recent weather up there, we did not want to take a chance on encountering wet rock or snow. This was going to be challenging enough for our guest, pushing her to the very limits of her comfort zone. We did not want it to be more dangerous, as well. For dry rock we headed south choosing the iconic Mt Chocorua (elv. 3490′). This was also going to be very challenging, but we felt it might offer safer ground conditions.
On task for this lead was Redline Guide Howard Aronson. He chose Champney Falls Trail. A Brook-Liberty loop as well as a Bolles-Beeline detour was also considered but this way would be the least intense of these options and would also offer Middle Sister as a plan B, if needed. It wasn't needed, however, because our guest, while definitely nervous at the time, dug deep trying to find a place in her mind beyond the steep, exposed rock and it worked. She also responded well to Howard's patience and encouragement. Other hikers likewise offered their encouragement, which she gratefully accepted. She commented afterward how awesome that felt (thank you if you were there).
Between it all — mostly what was inside her (remember, she wanted the mental challenge) — she got it done. She'd sit there on the rock, thinking that they can bring the damn helicopter at any time, then a few moments later she would make her moves. She was aware there were consequences, but she also knew one of the biggest dangers can be a lack of confidence. We were there to help her help herself in that way.
Nice job, Howard. And to our guest, well done. Thank you for pushing your limits with Redline Guiding.