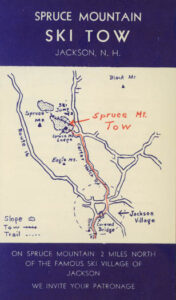 After being self-employed for almost thirty years of his life, you'd think Redline Guide Mike Cherim would be an accounting whiz. You'd think. Fact is he didn't know anything. Fortunately a many-time returning guest, an actual accountant, knew of Mike's disability and offered to show him the financial ropes, all in exchange for some hike time. Deal. Mike now understands a little more than he used to. He also knows that between debiting credits and crediting debits, he has discovered that the accounting world is completely bass-ackwards. Or maybe it's him. We won't talk about this anymore, let's instead focus on one of those promised hikes: Spruce Mountain, elv. 2270′, located in Jackson, NH.
Let's Start at the Very Beginning
There used to be ski hills and hiking trails all over the area back in the day. Back in the 1930s a ski hill with rope tow was opened off of Carter Notch Road called the Spruce Mountain Ski Tow. It remained open until about 1949 then closed. It reopened again from 1962 to 1971 before closing again, this time for good. The land is privately owned so we sought permission to park and access the historic area. There appeared to be a handful of viable options for getting to the top of the mountain, but going in from the east was preferred so the team could see some remains so they were glad to be green-lighted by the gracious owners.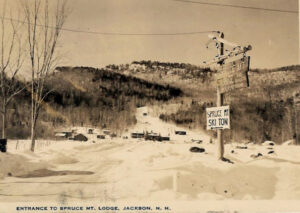 The hike began on the still skiable glade foregoing an old parallel bridle trail. They continued on this wide ski route, noting an artifact here and there, until reaching the point where the bridle trail crossed the ski trail, at which point they got off the steep ski trail and walked on the much easier bridle trail — according to the owner, horse rides were one of the offerings. They continued on this traversing the "bowl" until finally encountering a second road. They followed this second road north for a bit with the hunch that it would lead to a view point. It did, although view was restricted. After a short break they doubled back passing by the barely discernible junction, now heading south on this new road, but it, too, eventually ended at the top of the skiable terrain.
After this the team found a way up the steeper "headwall" skirting a few cliff bands and found themselves on the ridge. From this point they hiked north toward the true summit of Spruce Mountain hoping to find a jar or canister. While they did locate the summit with ease, there was unfortunately no canister or jar, and no log book. The high point was pretty obvious but the only marking was a big tree with a large, red letter 'A' spray painted on it. Our guest was bummed… this was going to be her first bushwhack canister entry. Next time, we promise.
The team ate lunch then doubled back along the ridge and made their way toward the south summit. Supposedly there were potential views there, and it's true, but everything was grown in a bit so grand, sweeping views wouldn't be found. Studying the map they decided to continue south-ish following a less-steep ridge which slowly turned east. The team continued east-northeast until reacquiring the ski glades again, this time opting for the old parallel bridle trail ending their grand exploration. They still searched for remains as they continued back to go, but didn't find much else that they could determine for sure was part of the old ski tow operation.
Well done, team. Next mountain will have a canister! Thanks for adventuring with Redline Guiding.