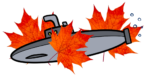 A returning guest had a great time with us this summer, so much so that she wanted to come back and give fall a try. While nursing a slight hip injury, the doctor's orders were that she needed to shy away from anything too steep. With that in mind Redline Guide Mike Maciel put together a day and a half of some moderate walking in the woods, searching for some our favorite fall things. Mike M. also put kindly together the following text, inclusive of most of this text. Thank you!
Day One: Way Deep, Not Steep, Less Peeps, Full Day
I already knew she liked waterfalls and interesting rock formations from our prior trip, so we set out into Zealand Notch to see if we could still find some foliage on our way out to Thoreau Falls. Without big elevation gains to occupy our time, we needed to find other ways to stay busy. So, at the request of our guest who said "it just doesn't look right," practiced some LNT by knocking over a few unofficial river rock stacks/cairns down by the North Fork. We had a snack near Whitewall Slide and admired the view followed by the highlight of the day, a nice lunch from atop the rocky, peaceful perch of Thoreau Falls. Our guest wanted to learn some wilderness navigation so we got ourselves intentionally misplaced on a herd path to discuss and practice some map and compass basics. From there, we headed out to Shoal Pond to see if any moose were around for a photo op, but today was not the day. On the way back out we enjoyed some New England maple candy from Vermont while taking another herd path to discuss the history of the area and to check out some interesting artifacts from an old logging camp. —Mike M.
Day Two: More Steep, Less Deep, Some Peeps, Half Day
With high winds, cool temps, and some unwelcome morning precipitation, Crawford Notch was not exactly a welcoming start to the day. But, this is why we pack our essentials, so we can be ready for anything. The beautiful views from the ledges of Mount Willard were the goal for the half day, but we decided to layer up and to time the weather out by first heading up historic Crawford Path to visit Gibbs Falls. The change in plans worked out. By the time we reached the Willard ledges, the sun was making an appearance but the crowds had yet to catch up. It was still cool and windy, so I brought a thermos of hot tea for us to enjoy while we took in the views. —Mike M.
Thanks for sharing some amazing days. Great job, Mike M. To our guest, thank you for again adventuring with Redline Guiding.