It's hard to keep up with all the cool things our guides do, but some things do stand out…
---
Arlette Laan Awarded #1 Fastest Known Time of the Year (FKTOY), Female
Hiking a diettissima, at least here in the
White Mountain National Forest
, refers to hiking all
48 of the 4000-footers
in one continuous hike. This can be done supported (people can help), self-supported (you stash stuff), or unsupported (you carry it all, alone). Redline Guide
Arlette Laan
did the latter
. And she did it faster than any other woman. And if that in of itself isn't enough, she was recognized by the
Fastest Known Time
(FKT) website as the
#1 Fastest Known Time of the Year (FKTOY) among women
.
There are 48 summits in New Hampshire over 4,000' high. Arlette did them all, non-stop, self-powered, Unsupported, Solo. She carried 9 days of food and supplies from the start. —FKT

Check out this photo of Arlette's finish on Instagram.
Added Note: As this is being written Arlette is completing another direttissima with her husband Rich Gambale. They are about eight peaks away from the completion of this self-supported gargantuan winter effort. Stunning!
You're incredible Arlette… we are so proud of you and all that you've done!
---
Ryan Mcguire Accepted to AMGA Alpine Skills Course

As a requirement of the American Mountain Guide Association's (AMGA) Alpine Guide Program, Redline Guide Ryan Mcguire has been accepted into the AMGA's Alpine Skills Course. This is where his progression begins.
The Alpine Guide Certification is designed for people who guide glaciated and non-glaciated peaks, approaches and climbs, with no limitation with respect to season and elevation. It includes rock climbs, peak ascents, waterfall ice climbs, and expeditionary climbing. The alpine program progression will help you fine-tune your skills in alpine snow, mixed, waterfall ice, and glaciated terrain. —AMGA

Great work, Ryan. You will help Redline Guiding reach new heights both literally and figuratively.
---
Katie Vaughan Earns AIARE 1 (Avy 1) Certification

Avalanche safety is a serious and important concern for some of our guides. Redline Guide Katie Vaughan is one such guide as she is working her way toward a more technical track, much like Ryan is. Expect to hear more about her.
Katie recently earned her American Institute Avalanche Research and Education (AIARE) Level 1 certification. By the numbers it's now more likely she will be involved in an avalanche incident, but we hope for her the education keeps her and her guests safe as it is supposed to.
Students can expect to develop a good grounding in how to prepare for and carry out a backcountry trip, to understand basic decision making while in the field, and to learn rescue techniques required to find and dig up a buried person (if an avalanche occurs and someone in the party is caught). —AIARE

Well done Katie! It is exciting to see you develop… with you our future looks bright.
---
Last But Not Least: Two New Guides Join the Team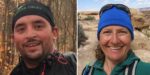 We will update Our Guides page soon, but for now please welcome two new guides to the Redline Guiding family: Guide Pat Ferland and Guide Deb Dunn. The two them have a long history of mountain time with some emphasis on climbing. Pat and Deb will be helping us grow in the areas of education, hiking, backpacking, telemark and Nordic backcountry skiing, and split-boarding, as well as on the technical front as it concerns the more extreme areas of mountaineering, traditional rock, and waterfall ice climbing.
Welcome Pat and Deb. We are excited for the future and the skills and experience you guys bring.
---
Stay tuned for more…