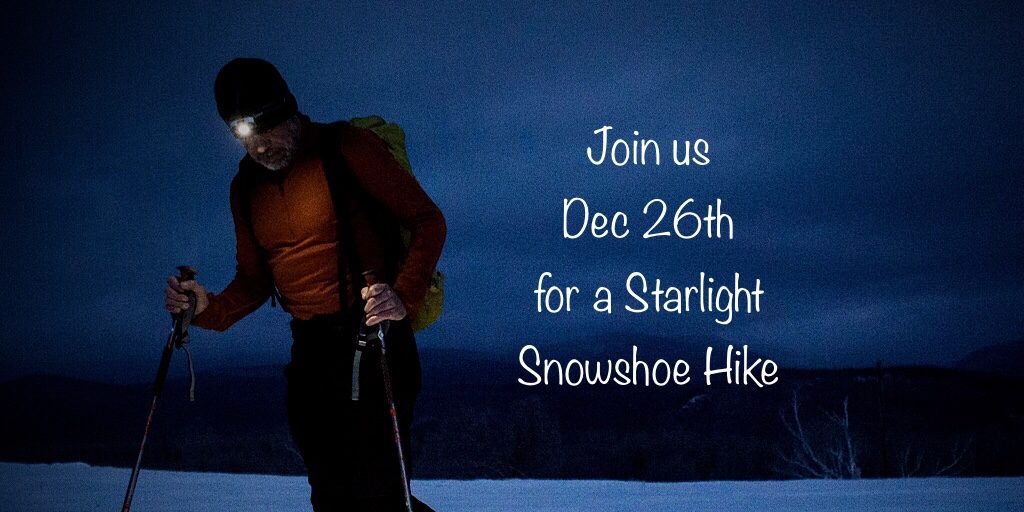 Trying something different, we have decided to offer a low-cost starlight snowshoe hike on December 26th, 2019 — date of December's new moon. Get to know us a little better and join us for a fun time. This will not be a high intensity, or high speed hike. We will, in fact, probably keep it simple marking the 2800′ Mt Willard summit ledges as our goal for the evening. This popular 52 With A View mountain features a fairly straightforward 1.6 mile trail rising about 900-feet. Hike time will be approximately 2-3 hours up, and about an hour down. It's not a walk in the park, per se — we are talking about the White Mountains — but it will be manageable for most people who consider themselves somewhat to moderately fit. Cost is a low, low $49/person (we normally charge $125 for our half day hikes). Pricing does not include gear or gratuity.
More Information About Gear and Whatnot
Some specialized gear is required, either snowshoes or light traction, for example, depending on actual ground conditions, and you will have to dress ready to hike. Since you will sweat from exertion even when very cold, this means NO COTTON OR DENIM garments. None! Moreover, depending on the weather conditions, you will need multiple layers: base-layers (polypropylene or wool long underwear), mid-layers (fleece), insulating-layers (down puffy), and protective layers (rain gear). Having all these layers, of course, means you will need a pack to put it all in. Additional specialized layers will also be needed, just think about protecting your hands (gloves and mittens), feet (great winter hiking boots and thick wool socks), and face/head (hats, hoods, face masks, goggles). And if all of this isn't enough, you will also need this additional gear: trekking poles, a good headlamp with batteries, some bite-size snack foods, water in a sealable container. More information about gear will be provided in a PDF attachment to your confirmation email. Also, please note, bring your base layers, the gear mentioned is available to rent, as needed. We even have complete Ready Packs available.
Details At A Glance
Date: December 26th, 2019.
Time: 5:00pm (returning approx. 11:00pm).
Meet: 14 Intervale Ln, Intervale.
Cost: $49/person less gear/gratuity.
Goal: Mt Willard summit ledges.
Gear: Read full text herein.
---
To Do This…
To join us for this adventure, please fill out our booking form, select the "Dec 26th" date, "Snowshoeing" as the activity, and you will be billed accordingly. If you have any questions, please feel free to reach out.
We hope you'll join us for this excellent adventure! Interact on Facebook!