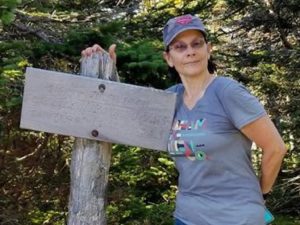 One of the most popular 4000-footers in New Hampshire is the 4700-foot Mt Carrigain. The reason for its popularity is two-fold: first of all the summit features a raised steel and wood observation deck; and second, from that lofty perch hikers can enjoy simply stunning 360-degree views. Moreover, according to Redline Guide Howard Aronson — today's hike leader — 44 of the 48 4000-footers are visible on a clear day from Carrigain's strategically-centralized location in the White Mountain National Forest. So loved this mountain is, many people pick Carrigain as their finisher.
If those two features aren't enough to explain Carrigain's appeal to the peakbaggers out there, it should also be noted that the way in is also noteworthy. There are two ways by trail: first there is the rugged and steep Desolation Trail which begins from deep within the Pemigewasset Wilderness. That's the long way no matter how you slice it; The second way, the default method, so to speak, is via the Signal Ridge Trail. This is how over 99% of the people do it. We would love to tell you it's an amazing five mile trail (seven miles in winter due to a closed access road), but when considering its non-curvilinear trail qualities, which are not preferable, Signal Ridge Trail is soullessly straight in places making it seem endless to many. The ridge, however, is utterly spectacular (just seeing Mt Lowell across the way is amazing). And that makes it all worthwhile.
What follows is a brief summary and photos from Howard about he and returning guest, Monica's, unusually hot fall day ascent and subsequently successful summit of this fine mountain. This gem in the Whites.
Today was my first solo guiding job for Redline Guiding. I took our guest Monica up and down Mt Carrigain for her 22nd out of 48 NH 4k footers. We started our day around 7:20 am and used the Signal Ridge Trail to ascend and descend. It's a 10-mile round trip hike. The weather was a little warm, with highs almost at 80°F close to the summit, with very light winds. But there were views for days and Monica had an awesome time. We finished around 2:15 pm. What a fabulous way to spend a Sunday. Thank you Monica, for being a wonderful, repeat guest, and for the great conversations. Until next time… —Howard Aronson

Congratulations on another successful summit, Monica. Edging ever closer to your New England 111. And, Howard, great job leading. We understand the summit chocolates and tailgate wine after was very well-received. We love the extra touches.
And now, more photos of the day.