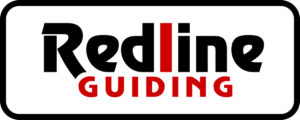 Last year while starting this company, we had a million little projects going on in preparation. One such project was to create bumper stickers. The plan was to spread them around, give them to guests, etc. We created a design featuring our custom modified typeface (it's called Adventure), along with our tagline and a QR (Quick Response) code. We then sought a printer for our stickers. We tried local sources (which printed our hiker safety brochures), but for the stickers they were just too costly. We went online to find a source there. And we found one in the form of Uprinting.com. We placed our order and the stickers quickly arrived. They looked great. But they were flawed as we later discovered.
We Have a Problem
Being wise we ordered an outdoor vinyl material with a UV protective treatment. This would ensure our stickers would look good for a couple of years. Something went wrong, though. The red ink on our stickers wasn't as UV protected as we thought. In full sun the stickers would become almost unreadable going from "Redline GUIDING" to "Red ine ." This is a problem.

We laughed about it. We coined names such "Redyne Guiding" and "Noline Guiding." We took it pretty well, even though people were having to stack stickers if they wanted a fresh, readable one. As a program, it failed thanks to the failed printing process, but what were we to do but live with it and make the best of the situation?
The original batch of stickers now almost depleted, we got on the line with Uprinting. At first we tried on a weekend evening and got some clown on chat who basically told us to suck it. We were months after the 30-day guarantee expired, it is true. The problem is, we explained, is that we weren't aware of the problem for several months. The representative literally ignored us after that. We stayed in chat for a while, but it was just us and some crickets.
Resolution at Last
Unhappy with that answer and ready to seek another printer, we tried one more time to at least get Uprinting to acknowledge the problem — we had paid extra for stickers that were protected and that would last, after all. We called during normal business hours and asked to speak with a manager. At first this didn't go very well. We were literally on hold for several long minutes as they located someone willing to talk to us. Finally, though, they came back on the phone. We had Charmaine on the line to help us.
To make a short story even shorter, Charmaine was sympathetic to us and after a little digging realized the production of our stickers was indeed flawed. It was completely their fault, and even though they were almost a year out of warranty, Uprinting decided to do a full replacement of our entire order. That's why we're writing. Good customer service and fairness should always outweigh policy and protocol. Thank you, Uprinting. Thank you, Charmaine.
But Wait… Pumpkin Spice?
The sound you just heard was the screech of brakes coming to an emergency stop. The new stickers came in and they didn't look right. The red wasn't faded or bleached white by the sun, so that was good, but it wasn't red either. A dark orange might be more accurate. That said, it is the fall season. Maybe the color would be more accurately called "Pumpkin Spice."
We Still Have a Problem
We called again, jumping ahead to a manager right away. The manager we got this time went by Nicko. He, too, was very understanding and accommodating and after an investigation decided to re-do our stickers again adding to our ever-growing sticker collection. They even sent the order overnight to make it up to us. Still impressed.
Again… thank you, Uprinting. Thank you, Charmaine and Nicko, both.