We try really hard during our multiple trip-planning phases. Being a private outfitter we usually have one and two guests at a time, making it a bit easier to make all the people happy all the time (though that is allegedly impossible). But we still work at it. It's something we don't take lightly; always hoping we can create that magical just-right Goldilocks experience. These phases — there are more than one since the weather outlook itself is a progressive thing, for one thing — sometimes involve a number of back-and-forth discussions. This was the case for a recent half day hiking experience led by Redline Guide Phoebe Seltzer. We covered a number of options, weighed their pros and cons, then Phoebe came up with yet another idea (at the same exact time we did). By text the words "Glen Boulder" appeared on the screen. This was right after we typed the same so this name was now mentioned twice. That's like some sort of sign!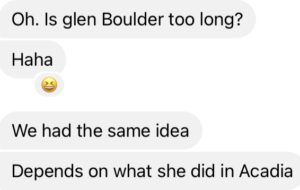 Glen Boulder is a bit of a concern for a couple of reasons. First of all, due to the terrain's raw nature, climbing it can take some time. For some Glen Boulder is approaching a full day duration, not a half day. For others, it's a perfect short day jaunt, however. Our guest was very fit, though, so we felt she could deal with it all.
Another concern is the section of scrambles right at tree line. It is like a little entry test — you must pass it to proceed. Phoebe looked in depth at our guest's prior experience and noted her hiking in Acadia National Park in Maine. For those who've been, they know there are some really technical and exposed "hikes" there so depending on the specifics, Glen Boulder might be a great choice. As it turned out, after Phoebe asked some specific, pointed questions, it was a good fit it seemed.
It's tough, memorably so, but the rewards are amazing and we were confident our guest would enjoy the experience. And as it went, it went very well. Our guest exclaiming how much she loved it when we reached out after the hike. Phoebe took some photos, and our guest took a couple of short videos, which with it all we made a little keepsake video. Enjoy!
Great job, team! Thank you for adventuring with Redline Guiding!