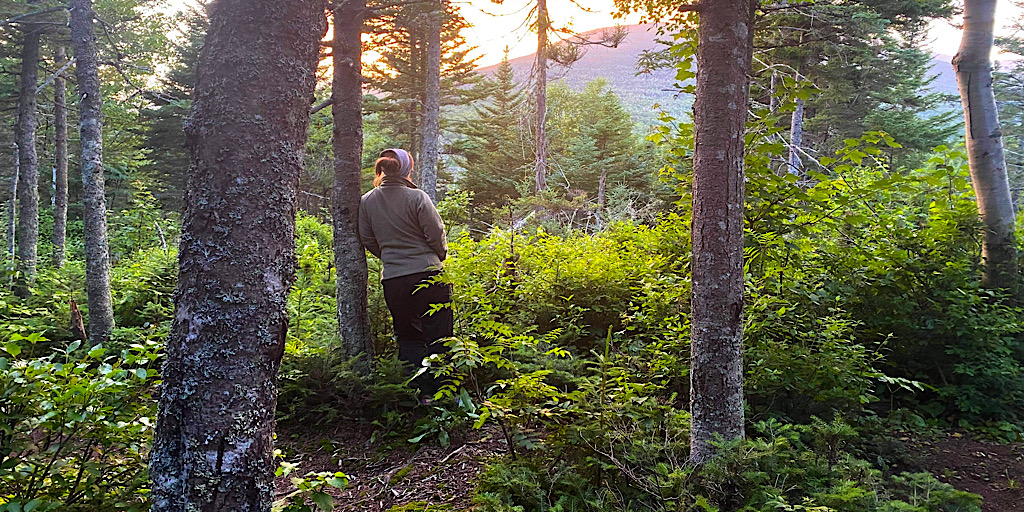 Not long ago we announced a special outing in honor of and in support to the LGBTQIA+ community. The event wasn't as well-received as we had hoped, but we did have two people join the party. In lead for this trip, due to some unfortunate turnover, was Redline Guide Will Murphy. As it turned out, Will was a great choice for this making a fine impression on our guests as indicated in an embedded testimonial in the YouTube video displayed below. That said, we are going to step back and let Will tell it:
Coming down from Carter Dome into Carter Notch, our 2 guests were awed by the view of notch created by glacial action. With the striking cliffs on Wildcat A flanking the shimmering lakes below, one can't help but to be in awe. But we are getting ahead of ourselves. Our guests were on a 3-day backpacking adventure that would take us into the Wild River Wilderness where we would establish a base camp in Perkins Notch.

Day 1 we met as planned, making introductions and going through gear to prepare for what lay ahead. All were looking forward to next few days and these women were well prepared and excited for it. Day 1 brought us on easy miles along the lightly used Bog Brook Trail. As the trail name indicates, there would be muddy sections! However we saw and heard so much of the forest, with mushrooms, flora, toad sightings, moose 'evidence,' an abandoned beaver pond that the occasional mud hole was just part of the the scene… then it happened! A foot went in and couldn't come out! With bending the knee, the suction of the mud was released and the foot with boot attached was extricated! Arriving at No Ketchum Pond in Perkins Notch on a wooded knoll was our place for camp. A light rain had begun to fall, enough to dampen the tents, but not anyone's enthusiasm. Tents up! Clearing skies and time for dinner! A beautiful day.

Day 2 brought abundant sunshine and pleasant temperatures. For both guests, this would be a challenge day. They wanted to learn and be challenged! Our day would take us up the Rainbow Trail to the summit of Carter Dome (4833′), down into Carter Notch, returning to Perkins Notch along the Wildcat River and Wild River trails. The views from the minor 'South Carter Dome' summit at 4260′ into the Presidentials was A+. Mt Washington stood in stark contrast to the others, with Huntington Ravine showing its raw features. After summiting Carter Dome, we proceeded into the Notch. The lakes in Carter Notch are not to be missed. We rested and reflected at the lakes, then started the hike back to camp. A beautiful evening ended the day.

Day 3 began with rain falling at about 5:30am. We needed to break camp and get back to civilization. While the last 3 days involved hiking and developing hiking skills, gaining equipment knowledge and growing in confidence about being in the woods, it was much more than that. Importantly, it was a journey of self discovery, finding new strengths, shared experience and developing new friendships. Both guests were using this to help them prepare for a future backpack and in the end got so much more. I am forever grateful to have met these strong, awesome women and share in this experience! —Will Murphy

It sounds as amazing at it looks in the video we made from clips and pics supplied by Will, below:
Great job everyone… and thank you for adventuring with Redline Guiding!