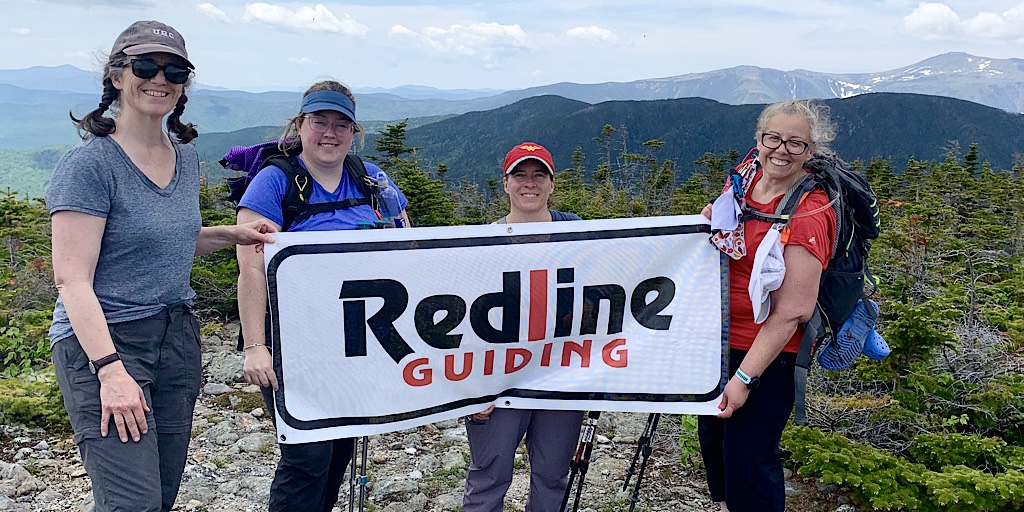 We often lead special group adventures, a lot of women's-only offerings, and that was the case here. And in this case we were leading four guests on what was planned as a three-day, two-night wilderness backpack. This trip, led by Redline Guide Samantha Fairfield, ended up being just two-days, one-night, due to weather and other concerns. Sam told us they had a great time, although there were challenges along the way, but as Sam also told us: "It's not a good hike unless you have some blood and mud to prove it happened."
What follows are more words from Sam:
DAY ONE: Friday we all met at Basecamp around 8:00AM to do a gear check, get whatever rental gear that was needed squared away, etc. We all left Basecamp around 9:30AM and headed to the Bog Brook Trail trailhead. We enjoyed a nice, leisurely hike through many river crossings, passed along a beautiful bog that certainly must house many moose, also apparent from the fresh tracks we saw all along the trail. During the hike the ladies learned about the different wildflowers native to the White Mountains. The trail was rugged and wild with some big blow downs that took some concentration to buswhack and navigate around but the ladies did great.

We reached our camp at Perkins Notch Tentsite around 3:30PM and set up camp. We discussed the safety aspects of picking a campsite such as always looking up to see if there are any widow makers, dead trees or branches that could fall on us while sleeping. We cooked food while learning about cooking safety, how to avoid burns and discussed the differences between popular stoves such as a Jet Boil and the MSR stoves. After a wonderful dinner watching while the sun sink a little lower over the view of Carter Dome through the trees, we discussed the importance of securing food from bears. I explained that when a bear box or bear cables are not around then you must hang your food from a tree. I taught them the different types of bear hangs such as the "PCT method," the difference and pros and cons of bear canisters vs bear bags, where and when you may need a canister vs a bear bag, and we explored the types of trees and branches to look for for a proper bear hang. I explained when you may not have ideal trees for a pct hang the other methods of stringing rope from tree to tree to hang a bag. We then got all of the items that belong in the bear bag together, divided them into 4 different sacks, then I — with a great stroke of luck — threw my rock bag up and over the first limb like a champ and landed it on the limb exactly where I wanted it. I showed them the PCT hang on one tree, and then again with another stroke of incredible luck (or maybe the result of 600 miles of practice on the AT this year alone) I landed my second rock bag and rope exactly where I wanted it on the second tree. This bag we tied off a different way just to show examples.

We learned LNT Principles with everything that we did, i.e.; spraying toothpaste, etc. — at about "hiker midnight" — 7:30PM-ish we all crawled into our tents and settled in for the night. Everyone slept okay with the sounds of the birds, wind, and some coyotes yipping in the distance.

DAY TWO: We all woke around 6:00AM Saturday morning, cooked breakfast and coffee and hit the Rainbow Trail toward South Carter Dome. The climb is relatively steep, no scrambles, but a steady incline so we went very slow and enjoyed the beautiful birch glades and ferns in the area.

When we arrived at the the South Carter Dome summit we we treated to the incredible views the whites are famous for. We hung out for about an hour as I showed them all the different mountains, discussed the different ranges, and their unique differences. We talked about the alpine zone and safety above treeline. We met a couple trail runners who said that some severe weather was on its way that afternoon and the clouds were looking threatening so we decided to head back down and beat whatever rain was coming our way.

We got back to camp at 3:30PM in a pretty good rain shower, it was discussed among the group the pros and cons of hiking out today versus tomorrow in the event the predicted heavy rains came our way making the already muddy and river rich trail back even more challenging. It was decided unanimously among the group that they would rather hike out while conditions were dryer than risk hiking out in the morning in the event the trail was very slippery mud and the rivers higher. I supported the decision after really making sure everyone was happy and on board with it and we very quickly packed up our gear and were back on trail for the 4.1 miles back to the trailhead.

The day was long but everyone rallied and dug deep within themselves to get the hike done safely and before dark. We arrived safely back to the trailhead right at 7:30PM and despite being very tired, everyone was really proud of their accomplishments. They not only learned what do to when out in the wilderness but they learned they possess more strength than they knew, they learned how to work through the tough and challenging aspects of hiking, and I, as their guide, was honored to be a part of this process and experience for them. Women are tough and tenacious and these women were no exception. It was a great weekend with a wonderful group. —Samantha

Samantha also provided a ton of photos… here.
Great job, Sam and great job "Slow and Steady Hikers!" Thank you for adventuring with Redline Guiding!