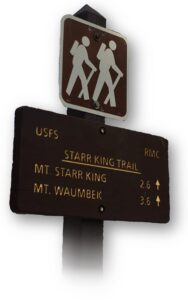 Some of our guests return to us over and over again. It makes sense to us: they are working on lists like the New England Hundred Highest, the Terrifying 25, the 52-with-a-View, or the 4000-footers and we provide security, guidance, even companionship — we've got your back — and so much more, really. And each trip is different — both guides and guests having gotten something beneficial out of the experience. But which experience may vary and sometimes a paradigm shift will occur and the lesson may differ from that anticipated. This trip is a perfect example. This trip was all about learning the ins-and-outs of snowshoeing. Was! Mother nature said in her kindly, grandmotherly (and southerly-sounding) voice: "No, child, today you won't need them snowshoes. Today, deary, you will learn about layering… or you may die." Yes, nature can be sweet and mild on some days, but oftentimes she's just very direct. No holds barred.
On lead for this hiking trip to the Mt Waumbek summit (4006′) was Redline Guide Mike Maciel. Mike knows his layering pretty well. He also knows that Mother Nature will usually have the final say telling you to take your best laid plans and to… well, do something with them in a shady place. His personal takeaway from the day, however, was that his aging iPhone 6s will not last the day in the cold, even when plugged in to a charger. Thus, he wasn't able to provide many photos as a result. We're guessing it's a battery condition yellow scenario — having just gone through this ourselves. It's time, Mike, time to upgrade.
Check out Mike's brief trip summary.
Lucky Number 13 — I took our returning guest out on Tuesday to continue her quest of the NH 4000 footers. We started the day with some gifts: I brought her a box of the maple ginger tea that we usually enjoy on our trips; and Santa brought me my favorite gummy bears! The goal for this trip was Waumbek, initially intended to serve as some snowshoe practice on the moderate grades but as we are all aware Mother Nature hasn't been able to make up her mind lately. Instead, with wind chills well below zero, it turned out to be a great day to dial in our guest's layering system. For her as a runner it's easy to get outside, get sweaty, and not have to worry because she'll be moving until she gets home. Winter in the mountains is a different story. Armed with a base layer, wicking material, fleece, and a super warm rented puffy our guest was comfortable all day as we made our way out into the cold. The skies were teasing us at the summit of Starr King, but the beautiful views couldn't fight through the clouds. Our guest still got to experience one of her favorite things, though: the snow covered trees as we traversed over to and slightly beyond the Waumbek summit in a winter wonderland. We warmed up with a little tea, and headed back towards Starr King, optimistic for the views that would never materialize. The only real casualty of her 13th 4K footer was my phone, which froze despite a warm home in my chest pocket and a battery backup, hopefully just one last minor setback of the challenging year that was 2020. —Mike M.

He didn't get many photos, but he was able to grab some before technology failed him. (A good argument for learning map and compass.)
Great job guys, despite having the lessons of the day changed, it still beats a day at the office. Thanks for choosing Redline Guiding.