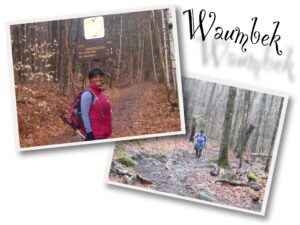 It's not exactly winter yet (though there's less than a month to go), but more and more the change of seasons is becoming apparent, particularly in the mountains. That's what the team saw on our latest hike. A returning guest working on her 48 4000-footers asked for a guide to accompany her on 4006-foot Mt Waumbek. This would be peak number twelve for our guest. The trip was led by Redline Guide Pat Ferland.
Pat reported a great hike, although the weather certainly didn't cooperate. He said they began in a cloud right from the onset and stayed shrouded in a misty fog nearly all day. A mile in it began to sleet. This turned to snow higher up, and that's how it stayed for the bulk of the day. Ground conditions higher up also called for light traction for safety.
Pat said they made good time up, turned after summiting, and reversed the course — nothing to see here, folks. Near the end of the day they finally caught a break with the weather; the last mile so offered clearing skies. Finally.
Good lead, Pat, and to our any-weather guest, well done! Thanks for adventuring with Redline Guiding.