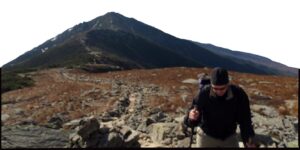 The wind forecast was a cause for concern for our guest, understandably with gusts predicted to hit 70mph on Mt Washington, but it wasn't enough of a concern to us to suggest we throw in the towel. In fact, when our guest asked for our thoughts, we said it sounded as if he would likely have a very exciting time on Franconia Ridge. We explained that the winds come and go, they rage and wane, they ebb and flow, it's cyclic. If it pushes you hard, just stop, brace yourself, get low, use those trekking poles, and hunker down and wait for it to pass. Years of experience taught us this. Years of experience taught us to respect the weather, but not necessarily run from it. Better, we strive to understand it and how we manage ourselves. To note its subtleties. How the wind contours over the mountains only scouring the ridges, oftentimes blowing harder and faster between the peaks than on them thanks to Bernoulli's Principle.
The team met at 6:45am at the Falling Waters trail head in Franconia Notch, Redline Guide Pat Ferland leading this hike. By seven the Covid screening protocol was done and the team was on trail. Thanks to the recent rains, the brook crossings were on the tricky side but the team managed. The same waters, however, really bolstered the significance of the waterfalls.
They hiked in sheltered woods for the first two-and-a-half hours, somewhat protected from the atypical southwest winds. Once atop Little Haystack, however, they really felt the winds which were blowing about 40mph, but coming from behind they aided their traverse, pushing them along. By the time they reached Lincoln, Pat estimated winds were blowing 55 or more — like standing on the roof of your car going down some back road — but they were more comfortable by this time. Lafayette offered more of the same. It was exciting.
Overall the day was gorgeous, and the team was even treated (a subjective sentiment, to be sure) to the Air Force putting on a little air show with a couple of very loud A-10 Warthogs coming in fast and low to the ground. Pat estimated at one point by Greenleaf hut the jets were mere 200 feet off the deck. Crazy. Otherwise, besides the winds and the aircraft, the team made good time, and the day went smoothly.
Good lead, Pat, and to our guest, way to get it done. Thank you for adventuring with Redline Guiding.