Camp Like a Champ
"
backpacking
/
camp craft
events
scheduled
for this season with the next one coming up the weekend of July 21-22 (sorry, sold out). The first one, however, just happened this past weekend and while it wasn't full, it was very much a success. This one was led/taught by
Redline Guide
Jean Lee
and it took place in the
Wild River Wilderness
. Specifically, they stayed at Perkin's Notch tentsite. If that sounds familiar, it's because
we were just there
. The Wild River Wilderness is wilder than some of the other wilderness areas in our opinion and makes for an enriched and rewarding experience.
In Jean's charge for the weekend was returning guest Alison along with her sister-in-law, Shannon. Both new to backpacking they begin with entry-level gear, some a tiny bit on the heavy side, maybe purchased from a place that begins with 'W,' but that's okay. We advised and helped them refine their carry a bit so they wouldn't be too encumbered. What we carry and how much is always going to be somewhat subjective — one person's must-have item may seem to another person like carrying a brick — but the general want of everyone at the end of the day is always less weight. We strive for maximum comfort and maximum utility out of what we carry, paring down luxury to what we as individuals deem essential. Our students will, like the rest of us, continue to reduce their carry weight where they can as they further explore backpacking. This learning curve exists for all. People may learn from making mistakes, as Jean noted. We know this well for ourselves. Our guidance in an event like this may be subtle at times but keeps our students healthy and safe. It doesn't, however, remove the minor mistakes that teach us. As individuals our students will find their own levels. We happily give a basis for this.
[…] the learning was more subtle in some ways — like I needed to do it without my husband's help, and I probably know a little more than I thought, but it's a confidence booster to actually do it. To have someone there that has experience and you can ask any questions you want is really nice. —Alison

After going through gear the trio headed out on Bog Brook Trail which was still wet in places, but drying out in others. "Medium mud" as Jean put it. They started in the afternoon, necessary due to scheduling, but easily made their objective some 4.5 miles away and 1000′ up. It's not a bad hike and they were able to take their time enjoying it on the way in. Stopping now and then to smell the flowers, so to speak, and to photograph this lesser blue flag iris.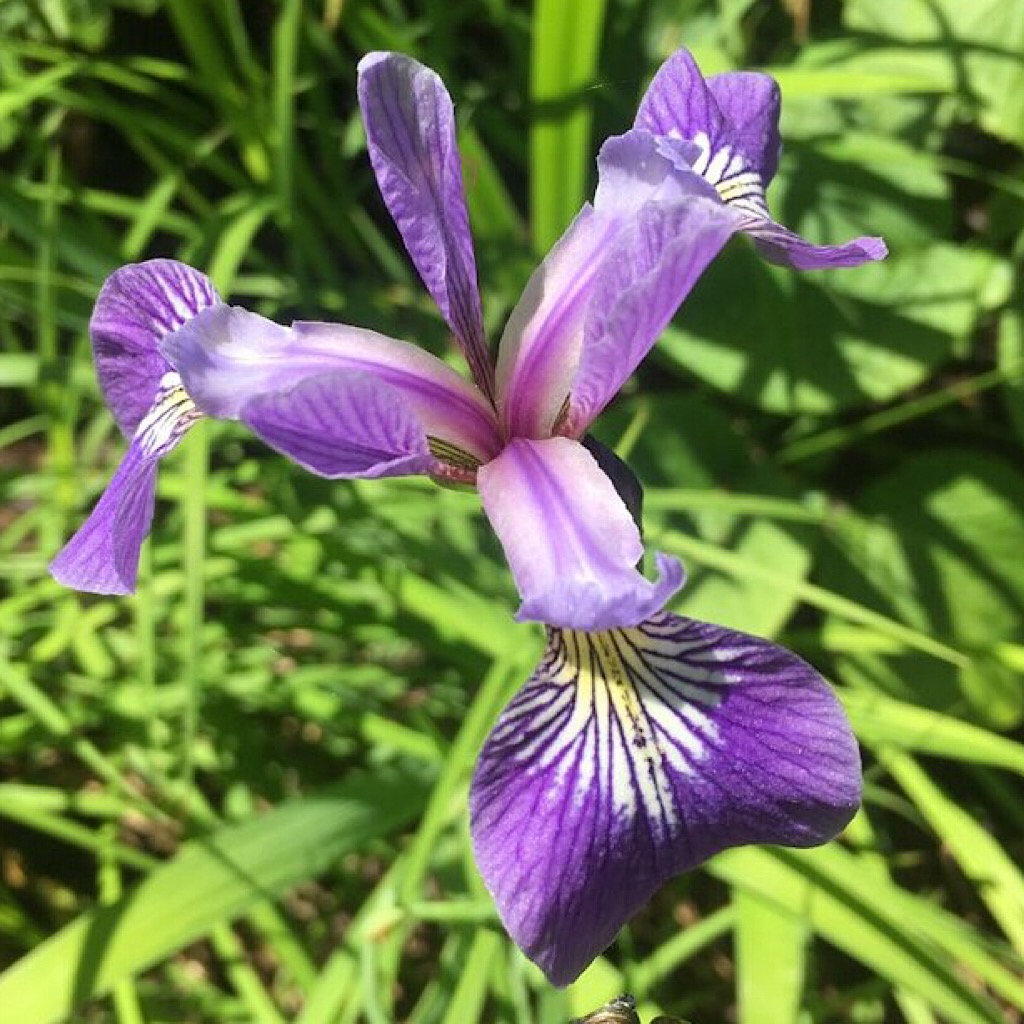 Before long they arrived at the tentsite and established themselves. Jean explained how to arrange camp, hanging a bear bag away from the sleeping and dining areas — and explaining that there are multiple ways to get this task and many other camp tasks done. She showed her sleeping set up, filtered water demonstrating and inline filtration solution using a Sawyer filter, talked first aid (including the magic of knee tape), even shared some knowledge about edible plants. And more. Our students were impressed, admiring Jean's experience and wisdom. They loved hearing about some of her adventures. Our students also loved the location we selected, saying…
The Wild River Wilderness was totally new to me and such a different feel from other trails. You get there a ways and haven't seen a single person all day and realize how remote you are. [It's] a little eerie to be that far out — and how far help would be if you got into trouble. But it was truly beautiful with some interesting changes in scenery. —Alison

After an uneventful night the team awoke, ate, and went through their morning routines learning as they went. On tap for the day were a couple of choices. One was to hike toward South Carter Dome via Rainbow Trail admiring the views and pretty birch glades along the way, or head deeper into the wilds. Since the ladies were so captivated by this new area, they opted for the latter continuing east on the Wild River Trail past East Branch Trail and as far as the lovely Eagle Link Trail as it would be more relaxed and that would better allow for deeper exit hike energy reserves. Next time they can go the other way!

Below are more photos from the trip. Photos by Jean unless otherwise marked.

Well done Alison and Shannon. And Jean, you did a great job teaching and leading this trip.

We had two women's-only "