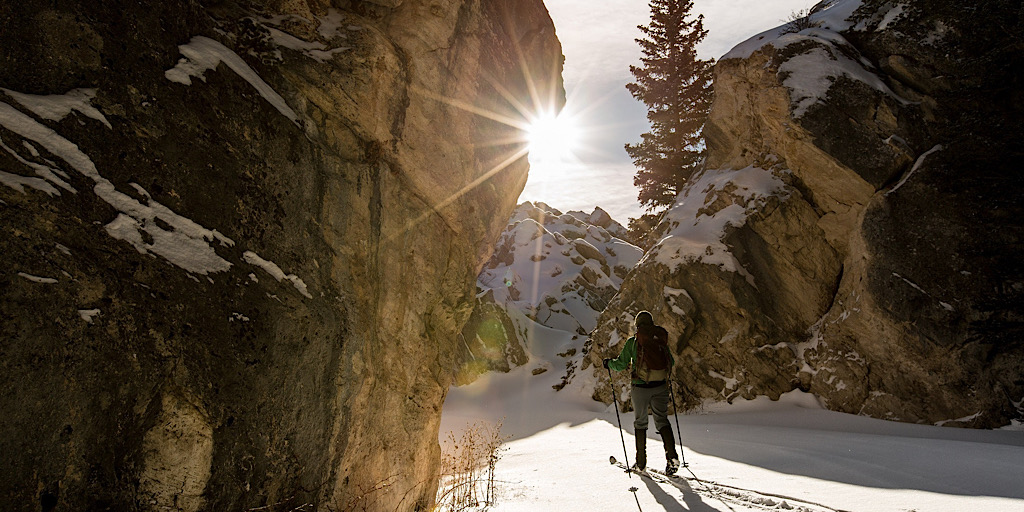 According to the Mt Washington Avalanche Center (MWAC) the avalanche conditions were considered "High," in the red, meaning natural avalanches are going to happen and human-triggered avalanches a certainty, overall pushing the risks to backcountry skiers and riders to the extreme. But it's a powder day! Are we just going to sit here? We decided going in as far as we can go safely a sound plan of action. After all, when conditions are high, if it's going to come down it may very well do so on its own and already be avalanched when you get there.
The plan for this backcountry ski tour, led by Redline Guide Dominic Torro was to head up the Gulf of Slides Ski Trail then make an assessment to decide if any part of Main Gully would be skiable. It looked fantastic, but the team moved with great caution continuing their assessment. Dominic has a great amount of experience, but experience doesn't directly step in to save one's butt. Dominic knows this and methodically continued to assess. They were totally content with just skiing the CCC trails like the GOSST and the Sherbie if need be. Safety first.
As it turned out Dominic was able to green light some of Main Gully feeling confident the snowpack was stable and "right side up" meaning the dense slab and what not was underneath the ridiculously skiable pow. As it turned out, the team had a fine day carving up the backcountry. The forecast, from within our team, called for sunny skies, calm winds, and a perfect skiing. Nailed it.