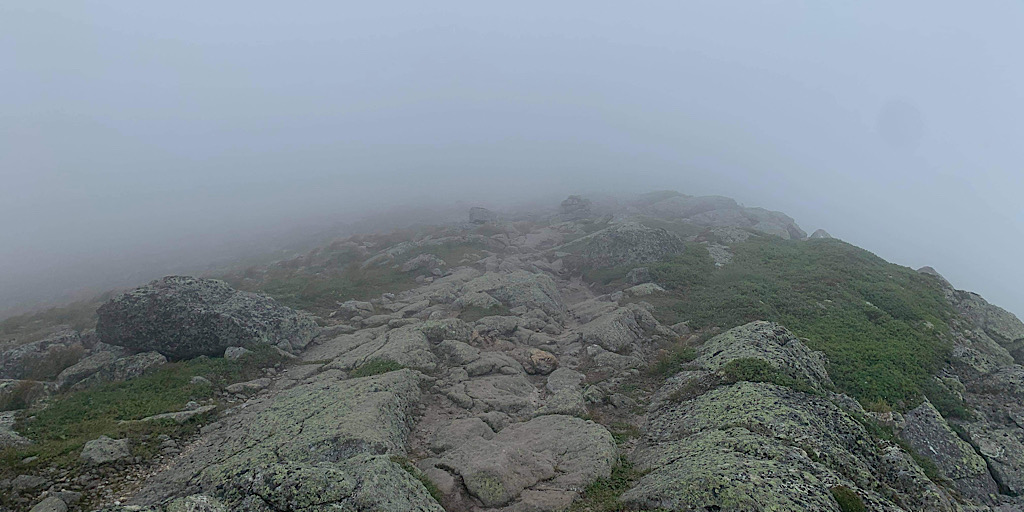 His June traverse of the Northern Presidential Range in the White Mountain National Forest (WMNF) was naturally followed up with a traverse of the Southern end of the same range. You can read about the prior tour here and also check out the video we made for that. This was a natural follow-up, particularly as many of our guests return for more fun times with us and our guides. Our adventure guests return for more adventures, our educational guests returning for more education — noting that those two may be flipped — and our wedding couples… well, naturally, don't come back. At least, thankfully, not for another wedding! (Vows renewals are okay, though.)
In viewing the media covering his last trip — also with Redline Guide Dominic Torro — you'll note the weather was clear and beautiful, and that there were long views of the surrounding mountains. Not so this time. On this trip the winds cranked and the team was socked in, forced to endure sublime short views only. "Forced to endure" we say tongue-in-cheek. The weather was awesome on this trip. Here's why:
One: It was a different experience. Otherworldly. Off the hook. Inspired warranted mountain respect.
Two: The lack of sun kept things cool. Sweet relief for both guide and guest.
Three: The winds made things crazy. Ridiculously-so, creating naturally laughable moments.
Four: There were fewer people out there, or seen out there, anyway, lending a feeling of desolation.
Five: There were no bugs. We repeat, there were no bugs — at least none bugging them in the alpine.
As usual, Dominic took some footage and a few stills with which we made this short video.
Great job, team. And to our guest, congratulations; thank you for adventuring with Redline Guiding!