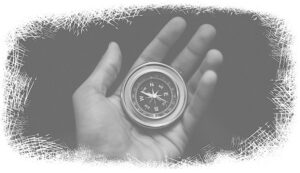 That post title will probably conjure up images of challenges to time management with chaos thrown in for good measure, but in this case the title is a lot more literal. In this case we had four people — two couples who knew each other — take a weekend-long two-day Wilderness Navigation course with us. During which they were literally navigating in that time. Here's how it went…
Day One
Day one was with Redline Guide Mike Cherim. Mike spent the morning at our Basecamp in Intervale, teaching them everything they ever wanted to know about the magnetic baseplate compass and its operation, topographical maps, and the two of these items used in concert — map and compass. This was followed by an afternoon of putting what they had learned in the classroom to work. Day one also featured other layers including triangulation and its practical uses in the northeast.
Day Two
Day two was with Redline Guide Ken Hodges. Ken took them into the Green Hills Preserve having them navigate to such features as Rattlesnake Mountain and Redstone Ledge using various methods such as handrailing and contouring, all while trying to remain oriented. We were told they did very well and really keyed in on certain things that for some can sometimes be considered slippery concepts. After the larger bushwhack that Ken led (yet followed), he took them through the old Redstone Quarry area. Our guests often enjoy seeing the abundant artifacts in this area. The same was true for this group.
Summary
The students must still do their homework assignments, forcing a shakedown of their own grasp of the material while further cementing what they do know. With that complete, which we will support, they should be bushwhack-ready. This was their goal, after all. Some students only want to remain more aware and oriented while hiking on regular trails. Other students, however, want to venture between the red lines on the maps, savoring a whole new level of freedom and independence.
Congratulations students and well done, one and all! Let us know when you want to rock.