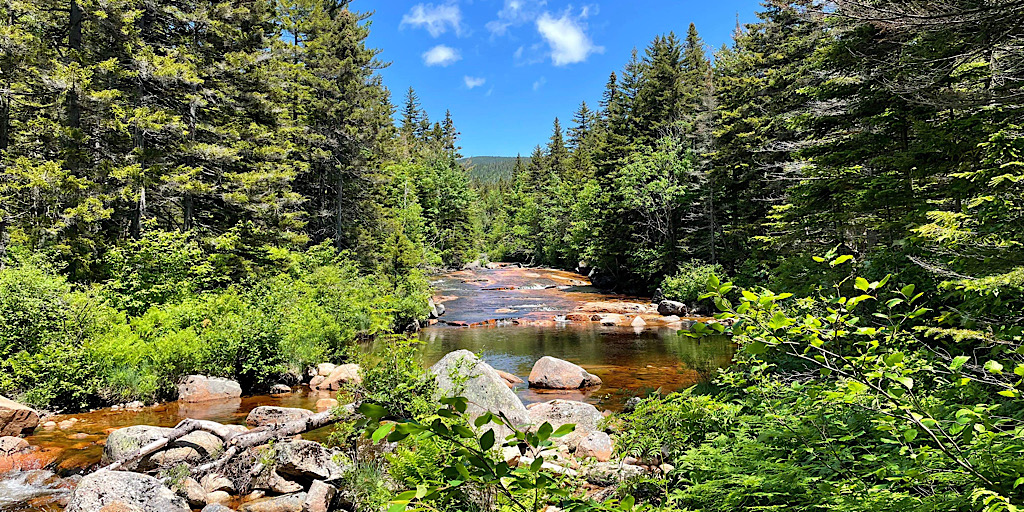 Just a hike, not necessarily a mountain, no summits needed or lists fulfilled. Just a plain old hike. Our returning guest was clear. She wanted a brain-clearing, joint-limbering trek into a wild areas. Sweating would be okay but let's not make a day of it. Get me out there!
We knew what to do. It would involve a little heavy lifting early on — while it's still cool — but after the initial push, the day would freewheel and there would be much to see: A flume cascade, bog bridges meandering through a pretty forest, a gorgeous pond, a pretty river and bridge, another gorgeous pond, a pretty wilderness waterfall, an active talus slide, an old historic rail grade, sweeping views, swamps, meadows, more streams, ponds, more pretty forest, and more bridges. Wow! Much of it in-built to the trek, other parts optional just off to the side. That's the beauty of a custom hike. It can be what you want it to be. Like a "Build-A-Bear," there are myriad ways to have your day your way.
On lead for this wonderful tour was Redline Guide Mike Maciel. Mike took a bunch of photos, as usual, and we turned them into this short video.
Great job team! Thank you for choosing Redline Guiding!