Every now and then we like to turn the spotlight onto one of our guides, asking them three questions. In doing so helping our guests and our readers get to know them better. We selected Redline Guide Will Murphy for this installment because of feedback we received over the summer. One common thread in the observations made by our guests was that Will seems completely at home in the mountains. They noted both the way he carries himself in this environment, and how happy and at peace it seems to make him. We get this. The draw, the power, the reward, but we wanted to know more:
How do you feel about the rewards of guiding people in the mountains?
The rewards of guiding people in the mountains are as varied as the mountains themselves. The mountains, and nature in general, have a way of bringing people to a point of reflection. We come for adventure, and that's a reward in itself, but that's something we bring. Nature's reward is decay, healing and growth, and we can't miss it. Thats nature's ever-present cycle. That's the point of reflection we come to. When we see it in nature, then we see it in ourselves.
You own a business, work, have a family, and guide. All about balance?
The thought of guiding was present with me, but it was my daughter-in-law that encouraged me to seek an opportunity to do it. Guiding, for me, is part of giving back. I feel extremely fortunate to have had both guidance and encouragement from parents and self will to pursue adventure and challenge in the natural world. I want others to be able to do that also. Guiding is a way to help people make those connections.



When I think about balance, it's often tied to a reward or merit process. 'I did this responsibility, I will reward myself with that activity.' I believe the body, mind and spirit are designed to be present, participating, contributing. So it is not about balance for me, but rather being fully present.
(Inset photo: Will with his best friend, business partner, and wife.)
Describe your perfect day guiding: what do you do, where do you go?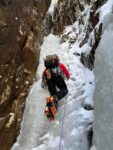 A perfect day guiding is in light snowfall climbing an alpine route. Roped travel combined with vertical ice, skis slung on the back. Ascending to our high point, the snow lifts, and the sky clears as the light reaches that late afternoon hue. Stepping into skis, we descends the backside of the mountain heading back towards the valley from which we started. This takes place in Chamonix.
Of course it does. Sounds divine! Thanks for letting us get to know you better, Will.