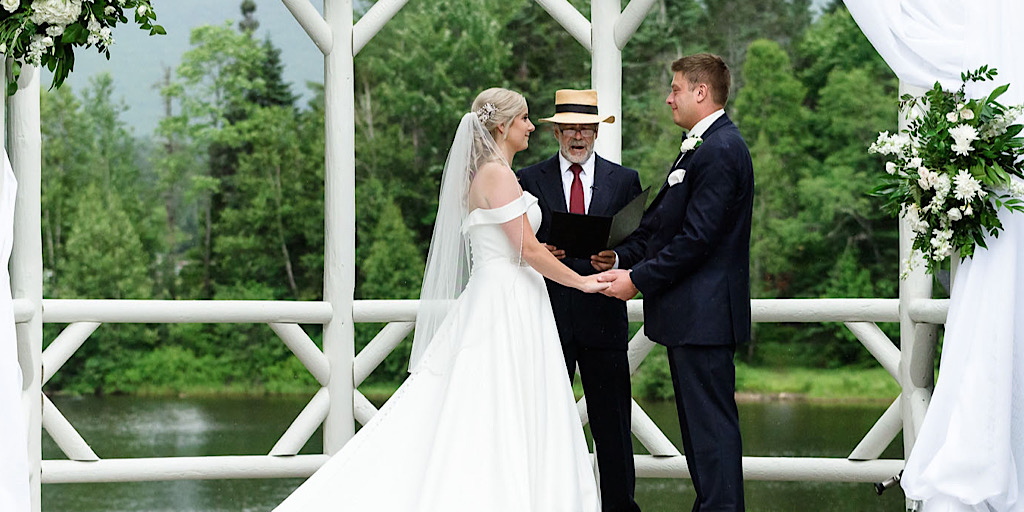 If you want to get married, New Hampshire is a great state to choose for your venue. From high mountain ridges to pristine shores, from clean mountain streams to tranquil ponds, and a landscape in between that inspires romance as much as it does adventure. The romance part, of course, is on you to figure out. But we can certainly help guide you on an adventure when you're here. Getting here we will also leave to you or your travel agent, though flying in most folks will choose either Boston, Mass., Manchester, N.H., or Portland, ME. We're here to clue you in to the rest of it. What follows is a step-by-setp primer on the basics of how successfully tie the knot in this great state.
Here are basic step-by-step instructions on how to get married in the State of N.H.
Pick a date and choose your team/venue: Your officiant (pick us please), photographer, videographer, attendant, hair, makeup, etc.
Obtain your wedding license: Get it from any town/city clerk in the state within 90 days of your wedding date for the sum of $50. Do call first.
Prepare to identify yourself: Both your officiant and the selected town/city clerk will require photo identification to prove who you are and your age.
Show that the past has passed: A certified divorce decree/death certificate will be required if there are prior marriages or you're a widow/widower.
Pay your Justice of the Peace: The New Hampshire officiant may not give away his or her services requiring a minimum $5 service fee (or more).
Make your intentions clear: This is our own rule, but we want to see a couple that clearly wants their marriage to happen on that day.
Have the officiant officiate: Everything about the ceremony is your choice. No law ties you to tradition in New Hampshire. It is your ceremony.
While this certainly isn't a full informational text — we will link you to the state for that (PDF) — and that we aren't a recognized legal resource, you should still find the primer above fairly accurate in its summation. If you have questions, do feel free to reach out and ask us.