Our December is off to a slower than normal start but it's to be expected. Between the lack of snow thanks to some recent rains, coupled with a lot of people's Covid-uncertainty, it sort of stands to reason. Thus, we're grateful this week is starting to ramp up and January is beginning to look decent. Having just added an Ice Climbing Introductory Course to our offerings, we're hoping for an uptick in 2021. For now, let's check take a quick peak and three of our post Christmas tours:
---
Hike One: Half Day on Willard
This tour was led by Redline Guide Deb Dunn. She kindly provided the following text and photos.
First time hike for a father and son! Mt. Willard (one of the 52 With A View peaks) proved to be the perfect hike for this maiden voyage. We were treated to the magic of snow flurries mixed with sunlight breaking through the clouds on this one! The trail was, indeed, icy so their rented microspikes and hiking poles were very much appreciated.

Prior to starting the hike we talked about how to use the poles, footing, proper clothing, the importance of hydration, nutrition and movement to regulate temperature so as not to get sweaty and cold, and a bit of history of Crawford Notch (the railroad, Elephant head, the oldest footpath, etc.).

At the brook crossing, swollen from the 4 inches of rain this week, we donned the Microspikes and demonstrated how to use the poles to balance themselves while carefully choosing footing as we crossed the water. No wet feet!

They were delighted at the beautiful view on the summit, and we relaxed for a bit with some hot cocoa and treats I shared with them. I also brought 2 small pads for them to sit on and stay warm and dry.

The hike down was uneventful and faster than our way up, as they were now more comfortable on the terrain. They commented a number of times on how happy they were to have the "sticks" (hiking poles) and spikes, and we noticed many underprepared hikers with sneakers or slippery boots and no spikes or poles.

One guest commented on not having good directional sense, and I mentioned to him that we offer navigation as well as hiking and camping courses (these now available virtually). Our guest are stoked to climb Mt. Washington next summer (and I of course suggested he go with a guide and/or get some more hiking under their belts before then). Glad he was excited about it, though! They asked lots of questions about the area and hiking, and I think were very happy to have a really positive first hike together.

And in exchange I learned how to plant our fledging fig trees outdoors so they will thrive! Our guests love to cook and garden. They were a very sweet father and son, and it turned out to be a really enjoyable day. —Deb

She sounds great, right?! We want her for our guide!
---
Hike Two: Some of the Wildcats
This next trip was with a many time returning guest working on her 48 (today marked 29/48). It was led by Redline Guide Pat Ferland. He offered these words and photos.
Today we hiked the Wildcat Ridge Trail. We met at 7am at Pinkham and warmed up on the Lost Pond Trail before connecting to the Wildcat Ridge Trail itself. The WRT had lots of blue ice and we took care with footing and movement and finally made it to the ridge. From there we proceeded on summit wildcat D. After the continued as far as Wildcat C. We turned around on top of C because our returning guest wasn't feeling it. We retraced our steps returning to the ski area. From there we proceed to hike down the alpine ski trails until reaching the Pinkham Notch backcountry Nordic network leading us back to the Pinkham Notch Visitor Center that way we could avoid having to deal with descending the quasi-technical ridge trail. —Pat

Sounds like coming down the ski trail wasn't just safer, but fairly interesting, too.
---
Hike Three: Mt Washington Goes
This last hike was supposed to be more, namely a training day, an ascent of Mt Washington, and an Intro to Ice course. The mountaineer skills training is tough to facilitate without snow, the ice climbing — particularly top-roping — is likewise tough to facilitate without ice. All that was left was scant ice and snow on a successful summit attempt of Mt Washington. For Redline Guide Ryan Mcguire, who led this trip, this was his eightieth summit. 80/500 that is. He's just begun.
Instead of more photos, we did something different this time. Click the link or on the composite image below to check out a short video posted on YouTube that we made using the media Ryan furnished.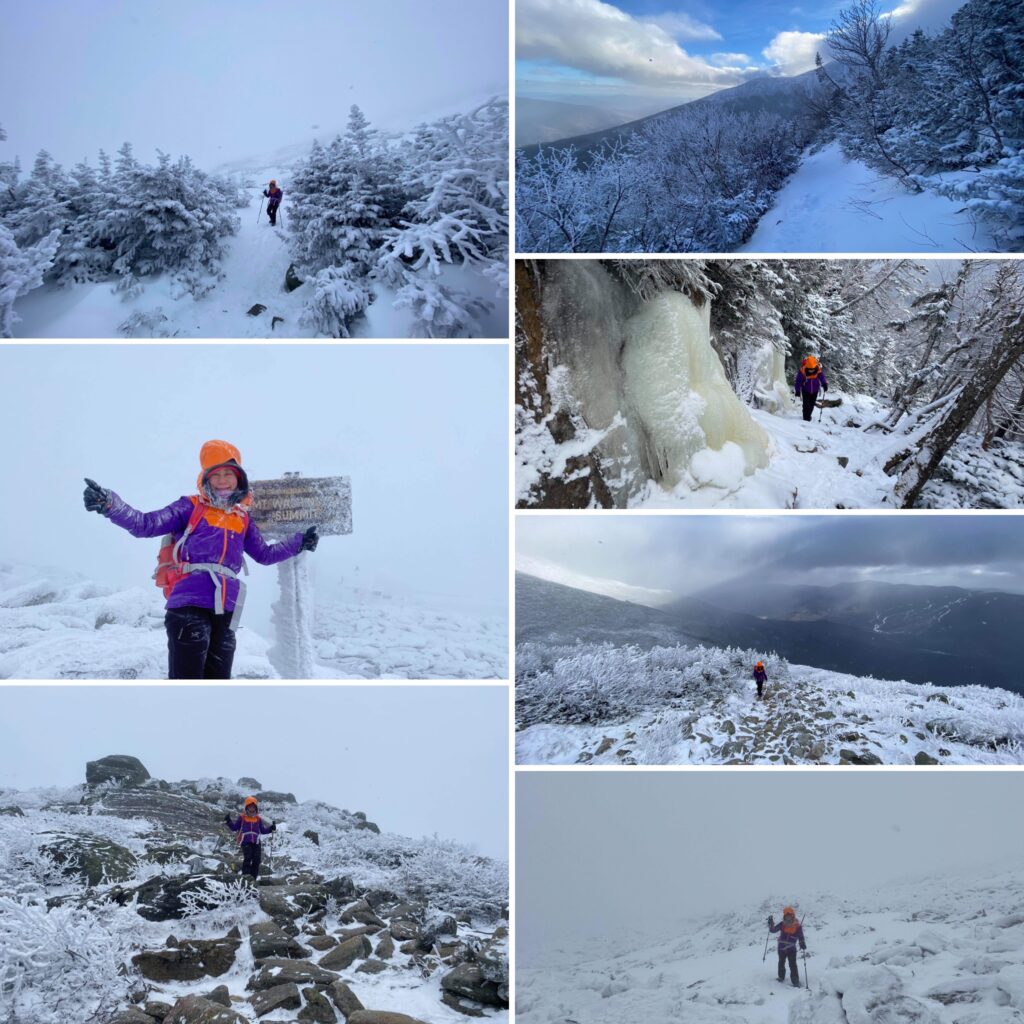 Great job everyone! And to our guests, thank you for adventuring with Redline Guiding.