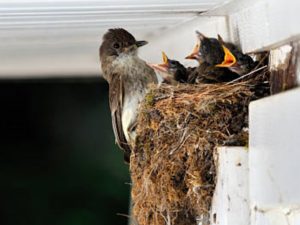 When they leave the house, when the nest empties — sometimes to move off and finish school on the other side of the country — a lot of parents quickly start to miss their kids. To many it suddenly feels like their children's growing up went by way too fast. Often times the realization hits too late, but other times parents know to savor those last moments and do something special. To enjoy a final bonding experience before adulthood claims yet another. Backpacking is something special, the perfect vehicle for such a bonding. No distractions, the only noise the wind (and rain when applicable). Yes, backpacking was just the thing for a father and son from Virginia looking for just such an experience. So naturally they came to us.
Three days, two nights. The middle day entirely bookended by nature. Wake up, out there, go to bed, out there. Just father and son… and Redline Guide Ryan Mcguire to lead the way. Perfect. A change of plans went into effect in the final hour partly due to the forecast, and partly due to the excessive numbers of mosquitoes and black flies expected at our original location. It probably helped, but they were annoyed by critters on the hike up and during day one nonetheless, barring their sunset on the Mount Garfield summit (elv. 4500′). The next, day, however, the bugs were gone. Clouds, cold, and bug-deterring breezes changed things for the better in that regard. But the changes did affect their plans as well. Instead of moving from Garfield Ridge Campsite to the Guyot Campsite, they decided to make Garfield their basecamp running faster and lighter over to Galehead Mountain (elv. 4024′) for a looksee and a visit to the AMC's Galehead Hut. They got back before the heaviest rains came and spent their time in the shelter until the following morning when they decided to pack up and leave. The timing was right. By the time they got back down to the cars the bugs had found them again. Here are some photos.
Good lead, Ryan. Well done father and son. And thanks for choosing Redline Guiding!