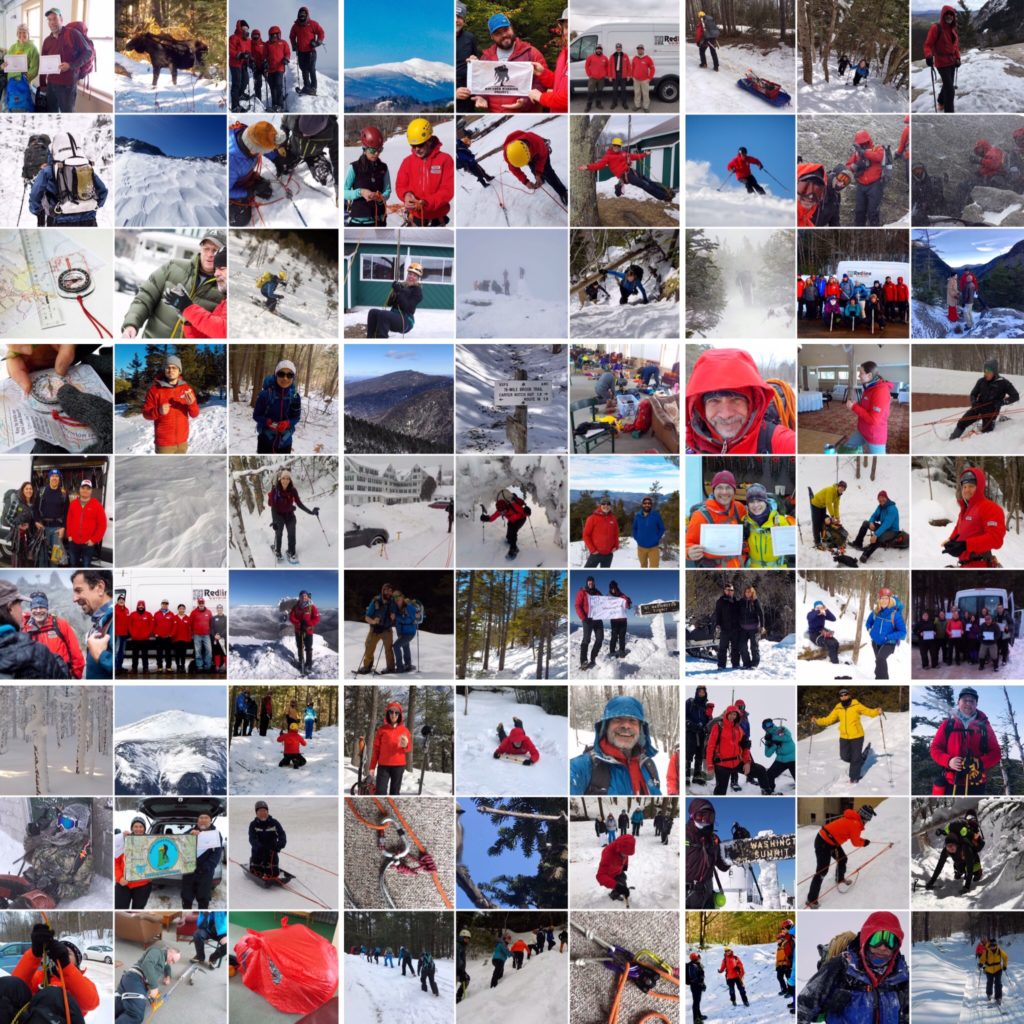 Get while the gettin' is good, as they say. That's what the month of March is all about here at Redline Guiding. We have tons of snow both in the Mt Washington Valley as well as in the White Mountains, with even more in the forecast! And you know snow, it's that perfect ingredient for so many cool activities. Here are a few of our most popular March snow-dependent offerings:
Mountaineering and Glacier Skills Training


Whether you're looking to remain a White Mountains winter hiker or head off and climb some big mountains somewhere, our Mountaineering Skills Course is must-have training. Learn the technicalities and choreography of crampons and the ice axe, hone your self-arrest skills, and much more. This is a half-day or (now) full-day course, just tell us when you want it to happen on our booking form.
If you are going to go big this spring or summer, heading out west to climb in glaciated terrain, for example, you will want to take our comprehensive Glacier Skills Course. We teach leader-level skills needed on glaciers — not just client-level skills. From terrain basics, to roped team travel, to passing pickets, to how to stake out camp, to entering and exiting glaciers safely, to how to perform self, solo, and team crevasse rescue. This is an intensive course available as a very full one- or (now) more in-depth two-days, just tell us when you want it to happen on our booking form. Mountaineering skills required.
Winter and Winterlike Climbs of Mt Washington


People often ask when the best time to winter climb Mt Washington is and we will typically reply with March. The first three weeks are in winter, making it official for those who care. If not worried about whether it's really winter or not, you can bet there are plenty of very wintery days up there often well into April. That said, it's a great time to make an attempt on the summit. Old Man Winter is slowly releasing his icy grip on the mountain. Moreover, the days are longer allowing more time for safer daylight travel.
There are two options. You can do so either as a full-day Snowshoeing Adventure, or with the right level of experience or training (see above), using crampons and ice axe as part of a Mountaineering Adventure. It depends on ground conditions, route availability, and your ability. It also depends on your wants and needs. You can choose your level of excitement, so to speak. Tell what you want and us when you'd like to give it a go on our booking form.
Other Things Worth Doing in March



We don't have a lot of guide availability for Backcountry Skiing but we do have some so we encourage you to reach out to us. We offer both Skiing Instruction as well as adventures for both Noric and Alpine Touring (the latter available until May/June). Additionally, classes such as Wilderness Navigation and some of our other seasonal favorites are already starting to book into spring and early summer so this is a great time to make a plan for your training with Redline Guiding.
As custom providers we have a lot of small classes at your convenience. You pick the day. This is how we roll. We aim for low instructor/guide to student/guest ratios so as to provide a rich, intimate experience. Nobody falls through the cracks in our courses. Nobody. Book with us today, or feel free to reach out with any questions you may have.