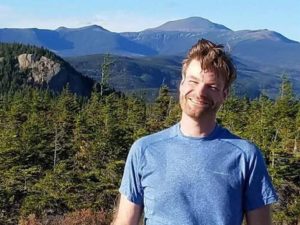 A returning guest, Jim, wanted to delve deeper into backpacking, to refine his skills, and train to increase his mountain toughness, so to speak. The ultimate goal being to backpack a "Pemi Loop" — a demanding 32-mile test of one's backpacking mettle. This was training. Since Jim had such a good experience with us previously, having a training day followed by an epic adventure, he called upon us again. This time Redline Guide Ken Hodges was assigned to lead this two-day, one-night wilderness adventure. Here's how it went.
Day 1: Sunny and Awesome
Even before receiving a primary report from Ken, we can already assure you day one was amazing. Weatherwise it was cool with light breezes, and sunny with endless views. Moreover, the intentionally long route in via Mt Stanton and Mt Parker Trails is incredible. The former traverses Whites Ledge on Mt Stanton (1716′), Mt Pickering, with its "Crippies" which is a series of humps (1930′), and Mt Langdon (2390′). The latter trail summits 3004-foot Mt Parker with its amazing views, and also skirts the stunning 3415-foot Mt Resolution — which they summited — and which also boasts amazing views. For those who are familiar with this area, it really is as amazing as it sounds. It's why we selected this particular destination for this custom wilderness adventure. We wanted it to be special for Jim.
[…] really savor that morning cup of coffee […]
The final objective for day one was to reach the summit of the 3463-foot Stairs Mountain just off of the historic Davis Path via a spur trail and camp. There's a wilderness tentsite up there. It's a small site, but its east-facing location atop the top step of the "Giant Stairs" on Stairs Mountain is phenomenal — in nice weather it provides stunning sunrise views. Especially early and late in the season due to the sun's arc. This is a great site in which to really savor that morning cup of coffee, being one with nature. Just be sure to bring extra water; this is a dry site.
Stairs Mountain and most of this trip in fact was within the federally-designated Presidential / Dry River Wilderness area. It's a quiet, remote-feeling location. Our duo saw nobody until day two on the Rocky Branch Trail where they encountered peakbaggers returning from Mt Isolation (one of the 48 4000-footers).
Day 2: Cloudy and Awesome
Back here at our headquarters in North Conway there were concerns about the well being of our duo on Stairs Mountain on the morning of day two. It was raining lightly down here in the Valley and we were worried they might be experiencing the same. It was cloudy where they were, but as it turns out, they had no rain. In fact, the photo below was accompanied by a text from Ken. Not only was it not raining, the morning looked lovely. Sublime.
As they finished their morning routine the skies began to spit some snow, but it didn't last. As planned, they packed then began hiking down Stairs Col Trail to the Rocky Branch Trail. From there, instead of taking an obvious right (the easy way out), the two headed north. The plan was to take the Rocky Branch Trail out to the trailhead way over on Route 16 (not the other trailhead at the end of Jericho Road). Remember, this was a training mission so it wasn't about taking the shortest, easiest route.
As the day wore on and the miles were put behind them, the weather got nicer and nicer. The two lucked out it seems. We're glad. It's easier to maximize fun as we're supposed to if it's not pouring buckets.
Guide's Summary
On Friday I set out with Jim, a returning guests, for an overnight backpack atop Stairs Mountain. The temps were finally fall like. We ascended Mt Stanton Trail up and over Mt Pickering, the Crippies, Mts Parker, Resolution, and finally Stairs. Along the way we feasted on wintergreen and blueberries as we soaked in the panoramic views. We spent the night on the summit of Stairs where Jim, who is a meteorologist and photographer, was totally in awe of the sky and mountains. Saturday morning we hiked out thru Stairs Col and went north on Rocky Branch, finding the elusive wooden post that marks the boundary of Coös and Carroll Counties. Oh yeah, the views along the river are pretty sweet, too, not to mention the historic value of hiking along an old logging railroad bed. Jim is already talking about his next adventure with us this winter. —Ken Hodges