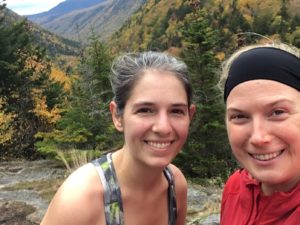 We had another guest from Ohio yesterday (10/6) who requested a Nature Tour so needless to say (but we will anyway) we put Redline Guide and Naturalist Liz Wyman on it. Originally our guest, Laura, wanted to head up to Mt Washington. She was hoping to drive up then hike to the Lakes of the Clouds hut and back, being informed about the alpine flora and area's history along the way. Being from Ohio, however, she wasn't positive about how well she would be on her feet, so when the forecast called for strong winds, it was time for a backup plan. We'll call it plan 'B' of course.
After careful consideration we decided on either South Moat Mountain at 2770-feet, or Kearsarge North at 3268-foot, which depending on Laura's response to some questions about her so-far very brief hiking career with only some hills in Acadia under her belt. But then it rained. The questions weren't asked, Liz decided something in Crawford Notch might be better knowing they could retreat to the Highland Center. In hindsight, since the rain was stopping, sticking to our plan 'B' might have been best due to drive times and distances. But that which ends well…
Liz chose Mt Willard at 2865-feet. Its sheltered summit would offer fine views without compromising Laura's footing with errant gusts. Conditions ended up being so calm, in fact, they were able to easily eat lunch on the open ledges. The smiles say it all, as it appears they are both having a great time. Liz offered the following synopsis which also reveals other treats of the day and further exploration to the aptly-named Elephant Head Rock on the other side of the notch.
Laura and I had a fun day exploring Crawford Notch! The weather was rainy when we met, so we decided to do two shorter hikes instead of one long hike. First we climbed Mount Willard, where we ate lunch and enjoyed a 180-degree view of the glacially-carved valley. The foliage was spectacular, and the rain let up. It was beautiful watching the clouds roll over the summits. After a quick pitstop at the Highland Center, we took an afternoon hike up Elephant Head for more stunning views of the notch. Throughout the day we talked about trees, geology, and the rich history of the White Mountains. We even got to watch the train chug along over Frankenstein Trestle. It was a perfect notch tour filled with laughs and smiles. —Liz Wyman

Hopefully Laura will come back to us for another hike or some continued training. In any case, well done on the summit.
Baxter, below — Liz's dog — couldn't come inside our place. The cat said NO. We went out instead. We had many walks.