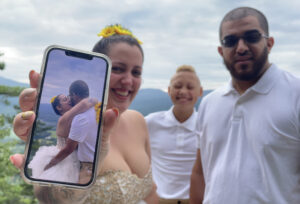 Cathedral Ledge, co-located in both North Conway and Bartlett, NH — depending on where you're standing (or hanging on for dear life) — is the site of many weddings.
It's very popular and sometimes crowded but if you get there in the early morning hours hardly anyone is around. This couple, Eduardo and Khrystine, took advantage of that fact and showed up early for their August 16th, 2023 wedding.
As a wedding venue, it can be somewhat private at times. The vehicular access and stunning views really explain this site's popularity, but it doesn't mean crowds are mandatory. Being a drive up has another advantage: getting dressed up is feasible if that's your thing. That's not always the case on mountain weddings. What follows is a 13+ minute video Redline Guide and JP, Mike Cherim made for the couple. Just one of the related services we offer. We hope you enjoy.
Congratulations and thank you for choosing Mike Cherim and Redline Guiding for your special day!