L
earn how to
not
freeze your tuchus off while camping this coming winter with
Redline Guide
Tim Jones
(primary). Tim plans to lead up to
eight (8) participants
on an overnight. The location will be made known only to the paid participants for privacy reasons, but do note that Tim has advised that the hiking/snowshoeing in part of it will be minimal. His focus being on winter camp life, staying productive, healthy, and happy. Camping out isn't supposed to be about suffering, even in winter. It's supposed to be about
not
suffering as much as possible, in fact, though admittedly for some objectives suffering a bit is unavoidable. But here in the Whites, below treeline, winter camp life can be grand. Check out Tim's summary:
Have you ever dreamed of winter camping with your family or friends? Exploring the beautiful winter wilds on snowshoes, then watching the sunset from your tent (or heated tepee/tipi), but you thought it would be too cold and uncomfortable, the snow too deep, or the gear too heavy? Well, February is the perfect time to dispel put those rumors to rest once and for all!

Begin at the our Basecamp where you will be taken through the basics of safe winter camping. Get to know the gear, clothing, and accessories (PDF) (even packable woodstoves that run on dead twigs and branches) for safe, easy, and very comfortable winter camping. We'll assess the gear you already have for winter suitability and adjust as needed (rentals available). You will pack up, caravan to a TBD location, and hit the trail — on snowshoes, if necessary — to an easy access location. Together, with your instructor(s) you will establish your winter camp, with heated tepees/tipis along with and conventional (unheated) tents.

Throughout the day you'll be shown you how to safely and comfortably ease into winter camping as you grow your confidence and skills. We'll teach you step-by-step how to stay warm, stay dry, and stay comfortable, even in to-be-expected unexpected weather. In the early evening you'll cook with the team and share a pot-luck dinner (probably a chili, everyone bringing a partially-prepped ingredient). You will have the option of spending the night in either a tepee, a tent, or being guided back to your car by headlamp if need be. In the morning, everyone shares duties and a TBD pot luck breakfast, then packs up camp while observing LNT practices. Afterward heading out on a hike or snowshoe before heading back to the "real" world, now in possession of the skills need to safely begin winter camping on your own. You'll never look at winter the same way again! —Redline Guide Tim Jones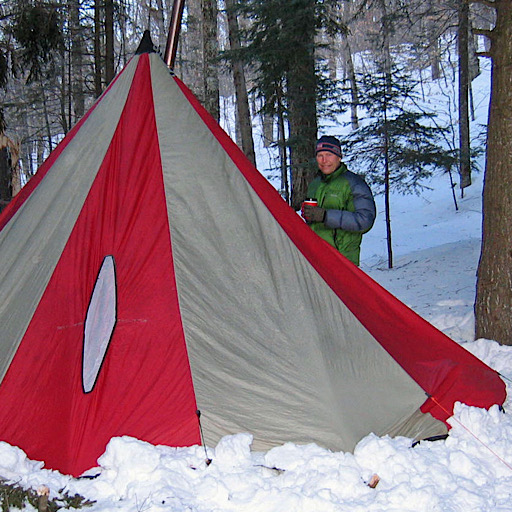 If this Winter Camp Life Clinic is something that interests you, here are some details you'll want to know before signing up:
Date: February 5-6, 2022.
Time: Meet at 9:00am (ends late afternoon, day 2).
Meet: 14 Intervale Ln, Intervale, NH.
Campsite: Revealed to participants only.
Difficulty: Easy.
Pace: Relaxed.
Ages: 18 and up (14-17 with an adult).
Cost: $199 per person (4+ reg. $300 ea).
TO SIGN UP FOR THIS EDUCATIONAL WINTER CAMP LIFE CLINIC, please use our Booking Form selecting the date range above (2/5-2/6/2022), and choose from the bottom of the pulldown menu OTHER: Unlisted Activity (Var.) from the activities listed, then reference "Camp Life."