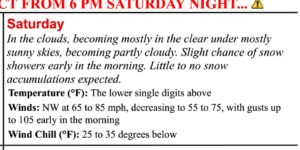 The forecast called for a high probably of yowza, with significant holy cow, plus a whole lot of ¡Ay, caramba! thrown in for good measure. To put that in meteorological terms, they called for temps in the lower single digits and morning wind gusts up to 105 miles-per-hour. Redline Guide Ken Hodges and a single guest decided to attempt Mt Monroe, nonetheless, but as expected, the final tenths of a mile were just too exposed. Ken reported the winds drove them up-mountain and battered them when they got there. For today there was no winning. The weather played havoc in other ways, too. A three-day Presidential Traverse became a Pemi Loop, for one example, and one group decided to postpone until later this month.
For our guest, being that the day this was posted was her birthday (happy belated), this was a special trip for her. Ken knew this and carried up some birthday cookies to help her celebrate. She had an amazing time, despite not summiting and, really, isn't having some fun the point of it all.
Ken took some photos and we made a little video with them. Enjoy.
Good job, one and all. Thanks for adventuring with Redline Guiding.