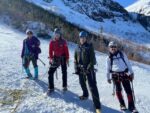 Our "Mt Baker Team" has been chomping at the bit, anxious for their May, 2021 attempt at Mt Baker in the North Cascades. While patiently waiting, while biding their time, they have been training hard, hiking harder, and expanding their technical knowledge. All together, as a team! This latest climbing tour of Dodge's Drop on the north face of Boott Spur on Mt Washington, which was led by Redline Guide Will Murphy, really helped the team put yet another notch in their collective belt. That this happened on a gorgeous day in great weather was a bonus.
The team did not summit. Within sight of the end the snow became too steep, too deep, and too soft. Like ants trying to escape the ant lion's sand trap, they would have exhausted themselves. It's no problem, though, they did great getting that far, it was an awesome chapter in their book of experiences, and because of the turn, they got to train for a steep descent down-climbing until they could face out lower down. This, we were told by one team member, really helped with their confidence and mild fear of heights.
Will and other members of the team provided a few photos and a bit of video which we've edited into this:
Fine lead, Will, and a great job, team. Thank you for adventuring with Redline Guiding!