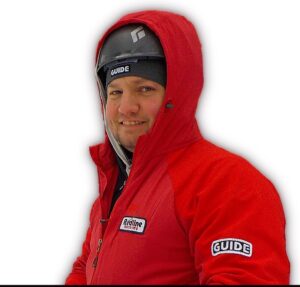 Redline Guide Ryan Mcguire has been busy this fall with his professional development becoming an Apprentice Alpine Guide under the auspices of the American Mountain Guide Association (AMGA). For Ryan's personal and professional aspirations in the area of high altitude mountaineering, this is an ideal route for him to take. This certification, once received, will assure anyone that he is held against an incredibly thorough international standard developed by some of the best climbers in the world. For the safety and success of our guests trying their hand at some of our more extreme offerings (now and more in the future), this is ideal. This program, as described by the AMGA, is as follows:
The Alpine Guide Certification is designed for people who guide glaciated and non-glaciated peaks, approaches and climbs, with no limitation with respect to season and elevation. It includes rock climbs, peak ascents, waterfall ice climbs, and expeditionary climbing. The alpine program progression will help you fine-tune your skills in alpine snow, mixed, waterfall ice, and glaciated terrain. —AMGA

Ryan offered us these sentiments:
Lots of amazing guides are not AMGA certified but the process of taking courses and peer evaluation to get there is also an amazing learning opportunity. I've battled with that imposter syndrome and chose at this stage of my life and career going through the AMGA Alpine Guide program is best for me. For my aspirations of climbing and guiding in some of the biggest mountains and more technical lines personally and professionally. Becoming a certified guide is more than just a patch it's a culmination of years of professional training. I look forward to the continuing process in the years to come to be the best guide I can be. —Ryan

Congratulations Ryan.