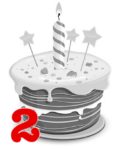 Officially no longer a baby, at two years old, Redline Guiding has become a toddler. So far so good. We're shaping up to be a fine young 'un, thanks to the terrific work done by our dedicated and caring guides and instructors, and thanks to you and your support. Here we are, hundreds of bookings later, classes, adventures, and some weddings, of course, under our belt.
We've had some excellent experiences leading others this past year. We're seen some animals like a bear and a few moose. We've witnessed the rising and setting sun. Enjoyed an undercast. We've hiked in Maine and extensively in state. Two lives were saved thanks to our teachings (seriously, look for the bolded texts on our testimonials page). We've created something from nothing, upheld the long-standing White Mountain guiding tradition, and as hikers, skiers, and lovers of the mountains, served our fellows, those of kindred spirit — and it's been an absolute honor doing so. Being there. Helping.
Anyway, we just wanted to post this update, celebrate for a few moments, then get back to work. Thank you, Redline Guides… and thank YOU, dear reader, adventurer, student, bride, groom, and friend.