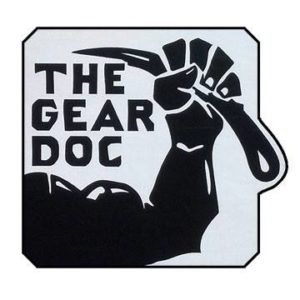 Rich Page, possibly known more widely as The Gear Doc for his beloved North Conway gear repair and fabrication business, has actually been with us since early spring and has guided on Mt Washington under the Redline Guiding banner. We've been slow to put it out there, is all, but here is it. Please give a nice big welcome to our newest Redline Guide, Rich Page. He will be a valued member of the team having a wealth of knowledge and experience. Here's a little more about him..
Having enjoyed the views from the highest peaks in North America, Rich has hiked with grizzlies, kayaked with orcas, and witnessed child birth. His passion was ignited early on as he began camping and backpacking with the Boy Scouts of America in the late 60s. Then to further this fire, on his 16th birthday, Rich, along with a friend on a 1973 Wyoming-bound road trip, climbed the Middle Teton (12,804′), unguided.
With a final Kiss to the Midwest in 1977, Rich headed further west to pursue climbing and skiing. He quickly landed a job with Banana Equipment — a small pioneer sewing company — making climbing and ski gear in Estes Park, Colorado and the Rocky Mountain National Park.
Business brought Rich to North Conway in 1990 where he settled. His "homestead" is with his other half, Rene Dumas. They have two grown daughters, as well as goats, chickens, dogs, a cat, a ferret, a good size garden, and a view nice of Mt Washington. Recently earning his 40-year pin the outdoor industry, Rich is a freelance softgoods designer for the mountaineering and military industries and he owns and operates The Gear Doc, a local gear repair service.
From rock climbing and snorkeling from Cabo, Mexico, to the granite walls of Yosemite and Colorado, then to the top of Denali and sea kayak trip, Rich has racked up some adventures over the last 50 years. He summited his first 4000-footer in December 1975 and simply cannot remember how many he has hiked since.
Early trips were backpacking in Michigan to places like Isle Royale (1970), the Shore-to-Shore Trail and a New Hampshire winter Presidential traverse attempt (1973), and the Porkies (1974). The 70s and 80s saw lots of climbing in the California, the Rockies, and in Alaska. El Cap, the Diamond, the North Face of Athabasca. First trip to Alaska (1979). First Ascents in Wyoming, Colorado, Idaho (1980). First Denali trip as an assistant mountain guide for Fantasy Ridge Alpinism. Then later in the 80s, Rich took on more in Alaska, regularly guiding on Denali, climbing in Ruth Gorge, Mooses Tooth, Peak 11,300′, Dan Beard, and three spectacular failures on the Rooster Comb.
In the 90s Rich turned his attention back to New Hampshire, business, and raising a family, complete with hiking and skiing adventures in the White Mountain National Forest, Baxter State Park, and Acadia National Park. Over the past few years Rich has spent his time close to home, hiking with Rene just about every weekend.
Welcome aboard, Rich.